Online shopping has never been more popular. This month UPS released its Pulse of the Online Shopper reporting that online shopping had tipped over the halfway mark: 51% of all shopping happens online. Consumers have embraced the Internet in a significant way and it'll continue to grow.
But as a shopper, what do you look for when you're surfing from site to site? And how can websites improve your shopping experience? These are the questions we asked at a recent online survey, "How 5 Seconds Can Make a Better eCommerce Site" to better understand consumer online shopping behavior. Specifically:
Purchase habits on cross-platform devices
How shoppers judge whether a website has good or poor performance
What drives shoppers to return to a website to shop again
What we learned
Mobile devices (smartphones and tablets) are becoming more ubiquitous at work and at home, and our survey shows that personal tech is helping boost consumer activity.
But the results of our survey suggest that we don't have a preference one-way or another when it comes to online purchasing habits. As it turns out, we're all multi-screen shoppers.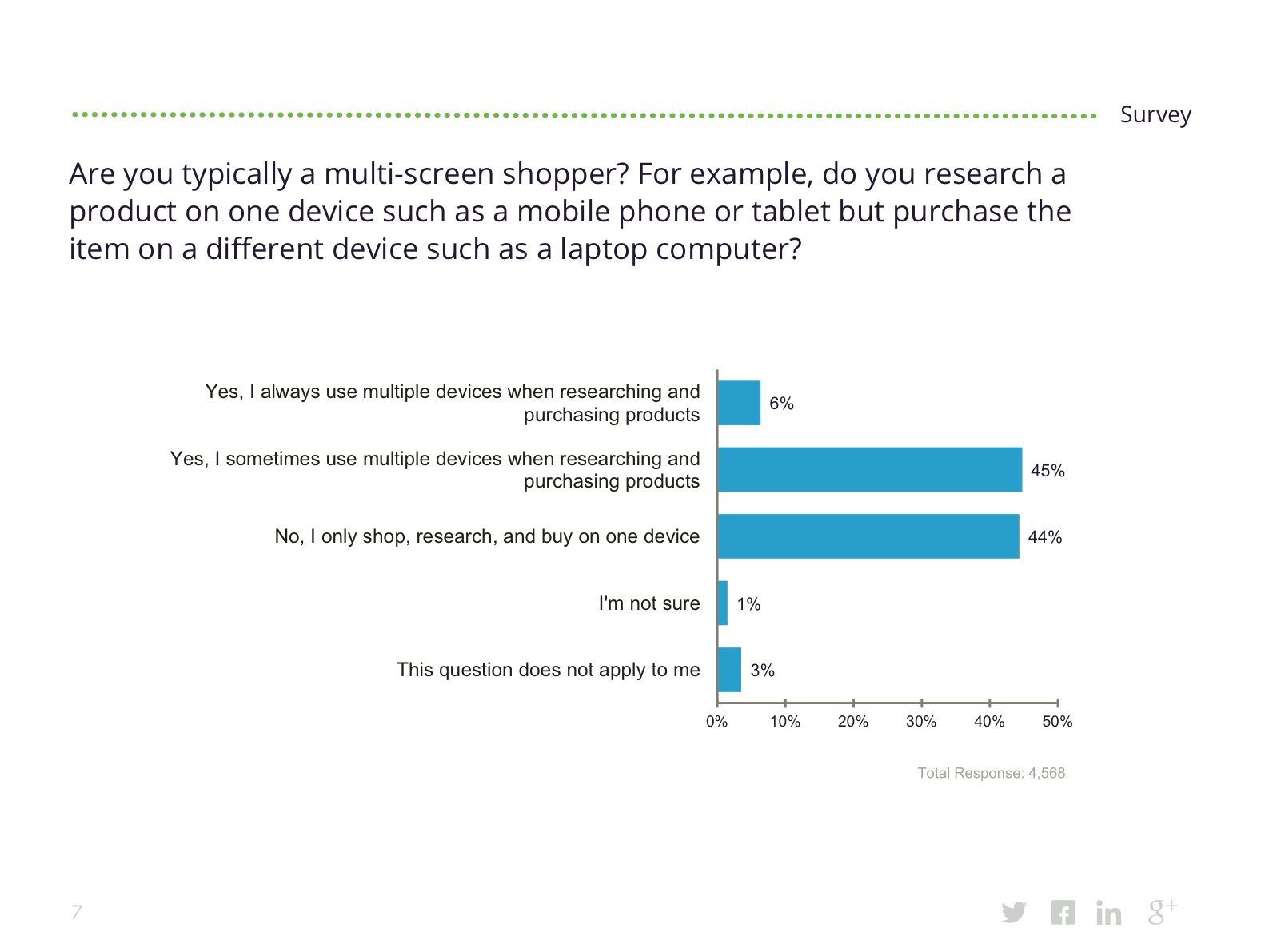 And because we're using a variety of second screens to satisfy our purchasing zeal, it's more important than ever for companies to be cognizant of their customer's habits. Mobile phones, for example, have become a big part of everybody's lives and influence more than half of purchase decisions in our sampling.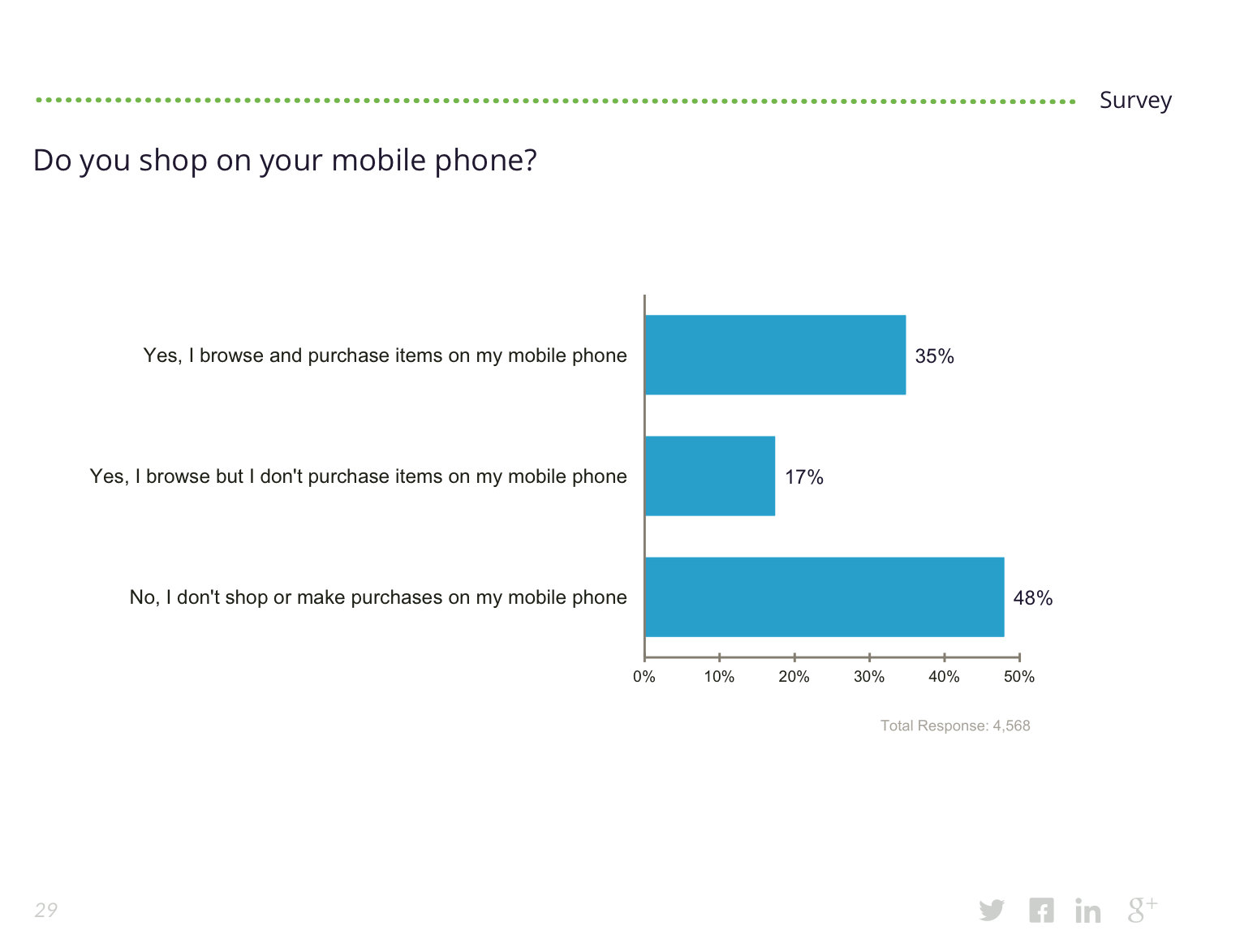 There's no way around it, people will not come back to a site if it isn't also optimized for mobile devices. Design and functionality vary greatly from one platform to another. And these variances must be addressed.
Page load time, navigation more important than video
Our survey shows consumers tend to prioritize website speed and ease of navigation above everything else. A majority, 62 percent, of users will only wait five seconds (or less) for a web page to completely load. That's an unforgiving statistic. We live in a fast-paced world, and our findings reflect that. As it turns out, nobody will stick around for more than 20 seconds waiting for online information to materialize.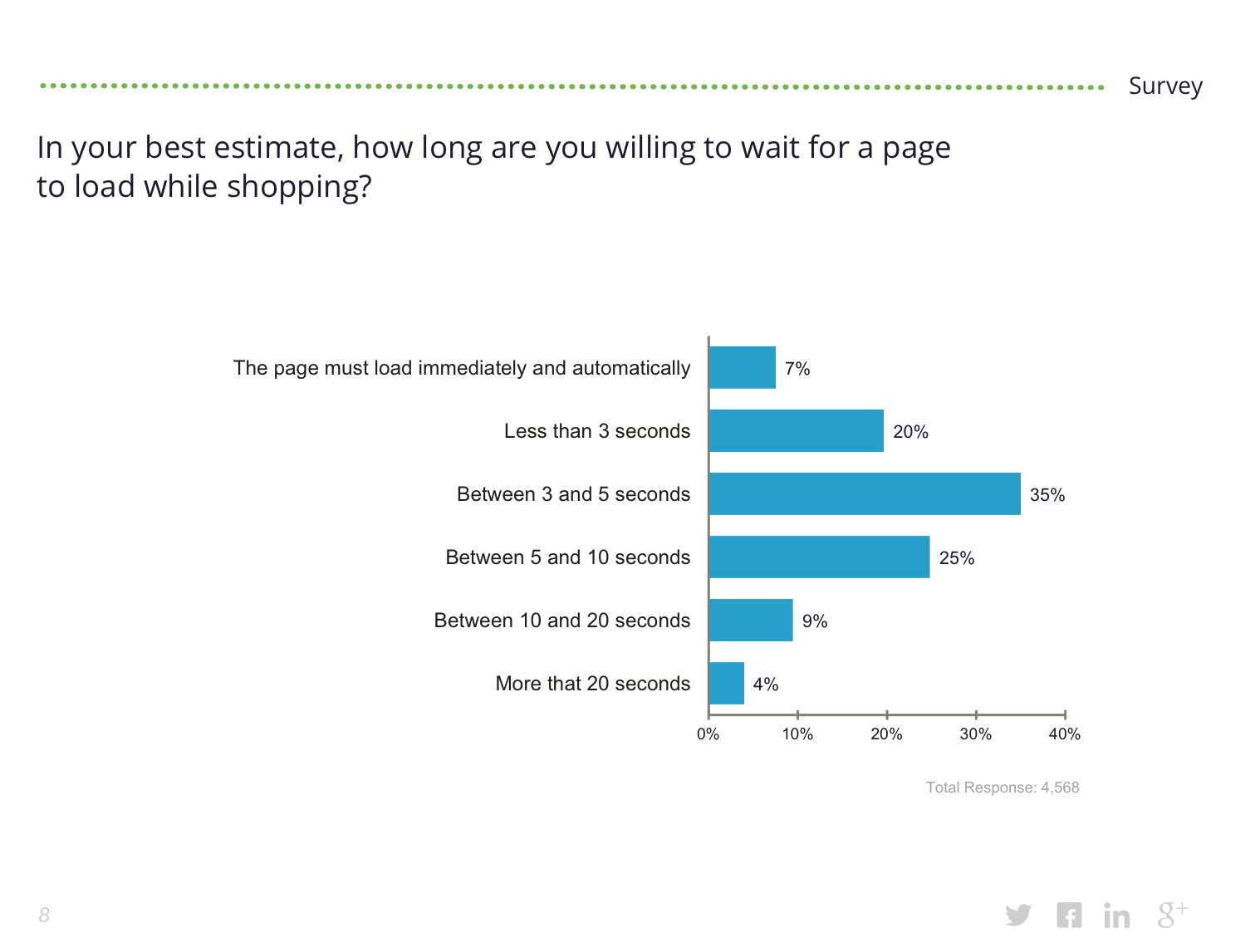 Even if a web page loads immediately, a shopper may grow impatient if the ensuing performance is slow. Nearly half of us will abandon a site if we experience unwanted user delays. Furthermore, less than one percent of shoppers will give the site a second glance in the future. You only get one chance to make a good first impression, after all.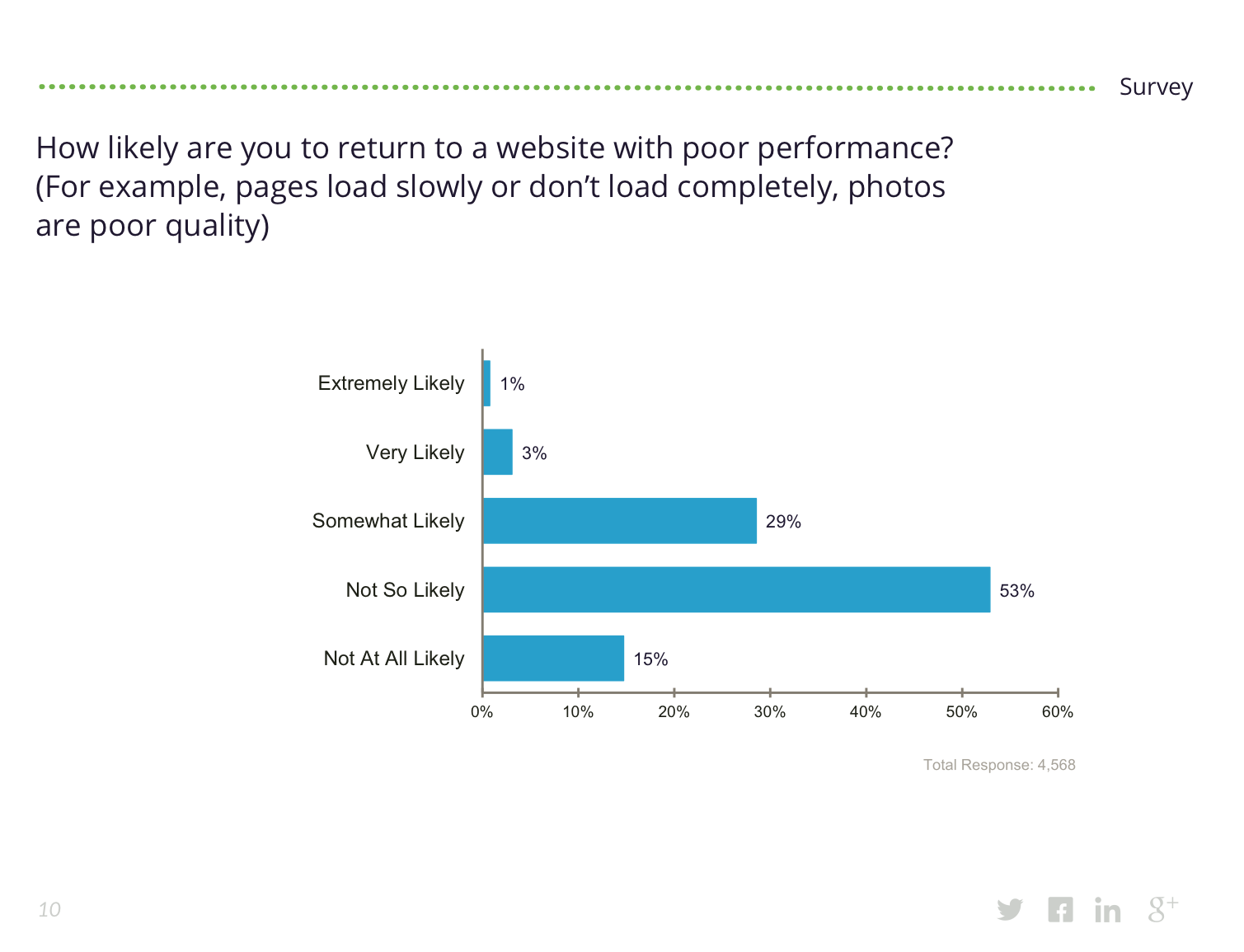 It shouldn't come as a surprise to discover that 68 percent of respondents in our survey said that they would probably not return to any website that had overall poor performance. That includes any sort of subpar user experience. Only four percent of consumers are loyal enough to give their favorite site a second chance.
All this intel leads us to a logical question: What are the most important features a website can offer a shopper? The answer didn't surprise. The ability to swiftly navigate a site is the number one thing we're all looking for. Quick loading times came in second. Video performance and the proliferation of advertisements contribute less significantly to our online shopping satisfaction.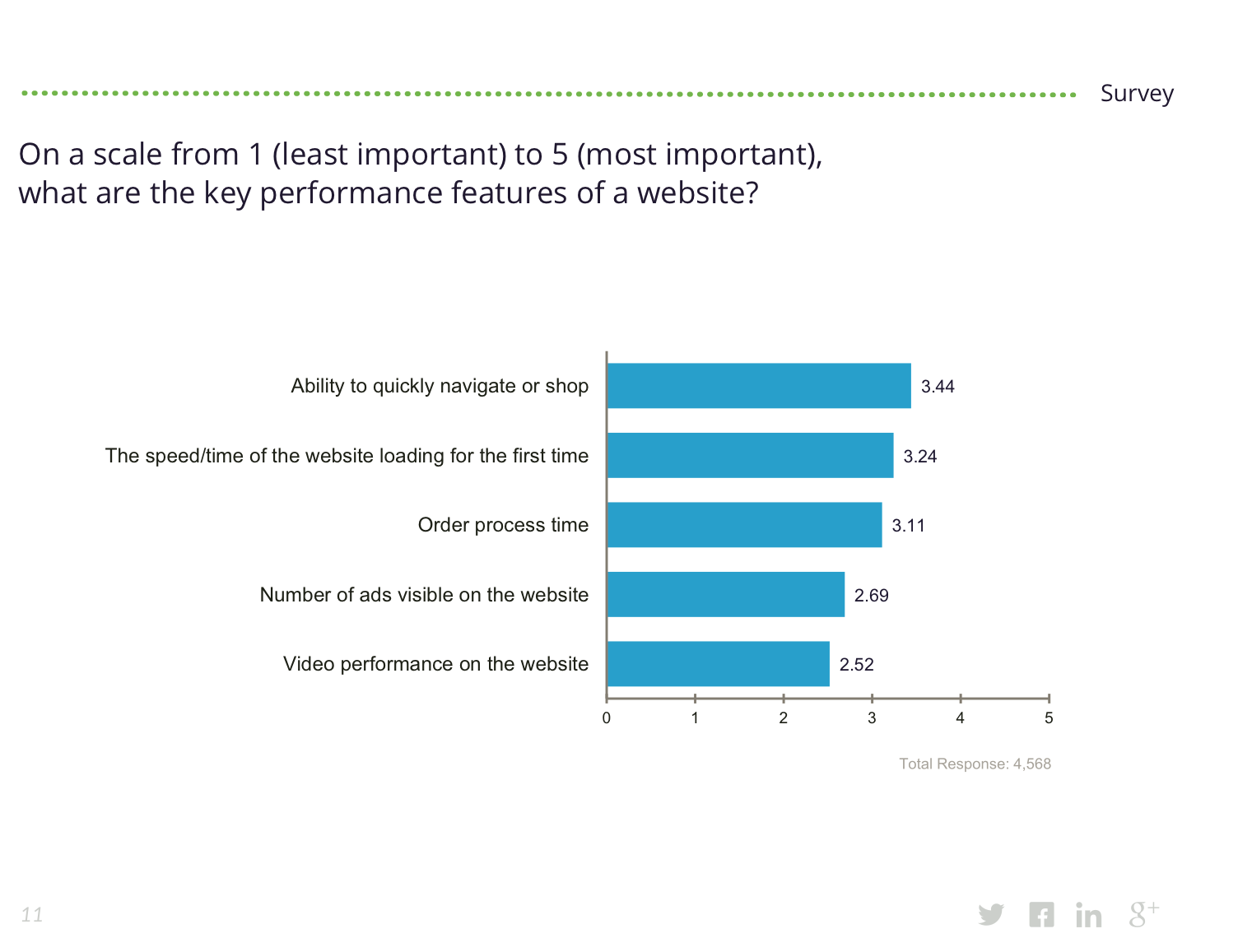 As online shopping grows, consumers will expect an uninterrupted user experience. A website needs to load quickly, the content compatible with a variety of screens, the flow of information intuitive, and the purchasing backend painless. A poor experience in any one of these can be problematic for any company that depends on substantial online revenue.
Keeping website visitors happy
Performance and page load times are key components of a better user experience and affect customer retention and brand loyalty. Companies with a significant eCommerce presence can invest in optimizing their sites to attract and retain buyers. Look for content delivery network and load balancing and failover services that can help improve website performance and a web experience your customers will appreciate.
Note: The online Imperva/Incapsula e-commerce survey was conducted from October 26 to November 11, 2015. A total of 4,568 surveys were completed and quantified. All of our respondents met the following criteria: they shopped extremely often, slightly often, or more than once a month, they were over the age of 18, and they headquartered in the U.S.
Try Imperva for Free
Protect your business for 30 days on Imperva.
Start Now