Modernize and optimize
Find out how Imperva Data Security Fabric integrates with your existing Guardium DAM deployment so you can do more with less. This infographic covers the five major ways enhancing your Guardium DAM with the Imperva Data Security Fabric can benefit your team.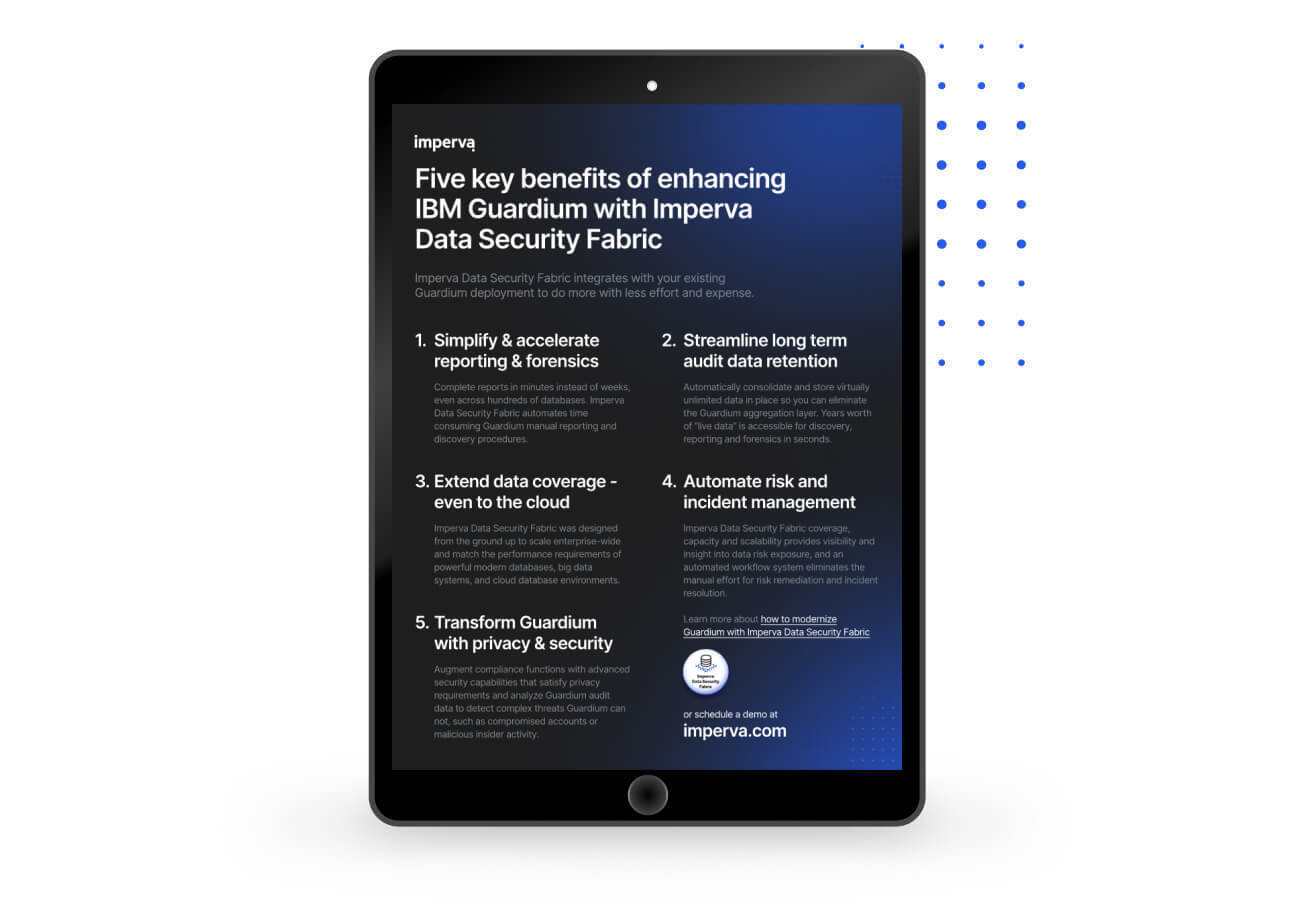 Improve Guardium effectiveness
Gain full visibility
Capture all data activity in a single platform, close gaps including cloud and store multi-year activity data for audit and forensics.
Automate manual process
Produce reports in minutes instead of weeks, integrate incident detection with response workflow, streamline SOC operations and improve effectiveness.
Enhance security
Add advanced analytics, detect threats that Guardium misses and solve for risk management, privacy and data protection.
Customer story
Bank Holding Company
Expanding data coverage and retention requirements for GDPR and NYDFS compliance, a data migration to the cloud, high labor cost, and outages from system overloading led this organization to use the Imperva Data Security Fabric to optimize their Guardium deployment
Expanded Data Coverage

100% coverage across 1500 DB Servers and Cloud Assets

Improved Audit Data Retention

Extended in-place data retention capacity from 1 week to 4 years and eliminated Guardium aggregators

Automated Processes

Same staff, getting more done, with better results in less time

Better Risk Management

Gained visibility across all data, including in the cloud, through a centralized platform
Imperva Data Security Fabric simplified our infrastructure, reduced our expenses, and allowed us to accelerate our cloud initiative because we gained confidence we were not leaving any gaps in our data defenses.
Integrates seamlessly with existing Guardium deployments
The Imperva Data Security Fabric optimizes Guardium by simplifying the infrastructure and automating manual labor.
Value-add security capabilities detect even complex or evasive threats and then present insightful dashboards and clear incident summaries.
Enrich reports with:
Contextual metadata
Vulnerability management history
User entitlement summaries
Classified data types
Orchestrate and automate actions:
Entitlement review
Report sign off
Change control processes
Sensitive data alerts
Database discovery
Prevent data-centric threats:
Account compromise
Account abuse
Brute force attacks
Code injection
Insider threat
Simple database security that works
Imperva Data Security Fabric unifies governance across on-premise and hybrid cloud environments and presents it all in a single view.
Automate manual processes, such as reporting and long term data retention, so you get your work done in less time with fewer people.
Simplify your database security infrastructure and eliminate the Guardium aggregation layer.
Transform Guardium from a compliance-only tool and protect against breaches.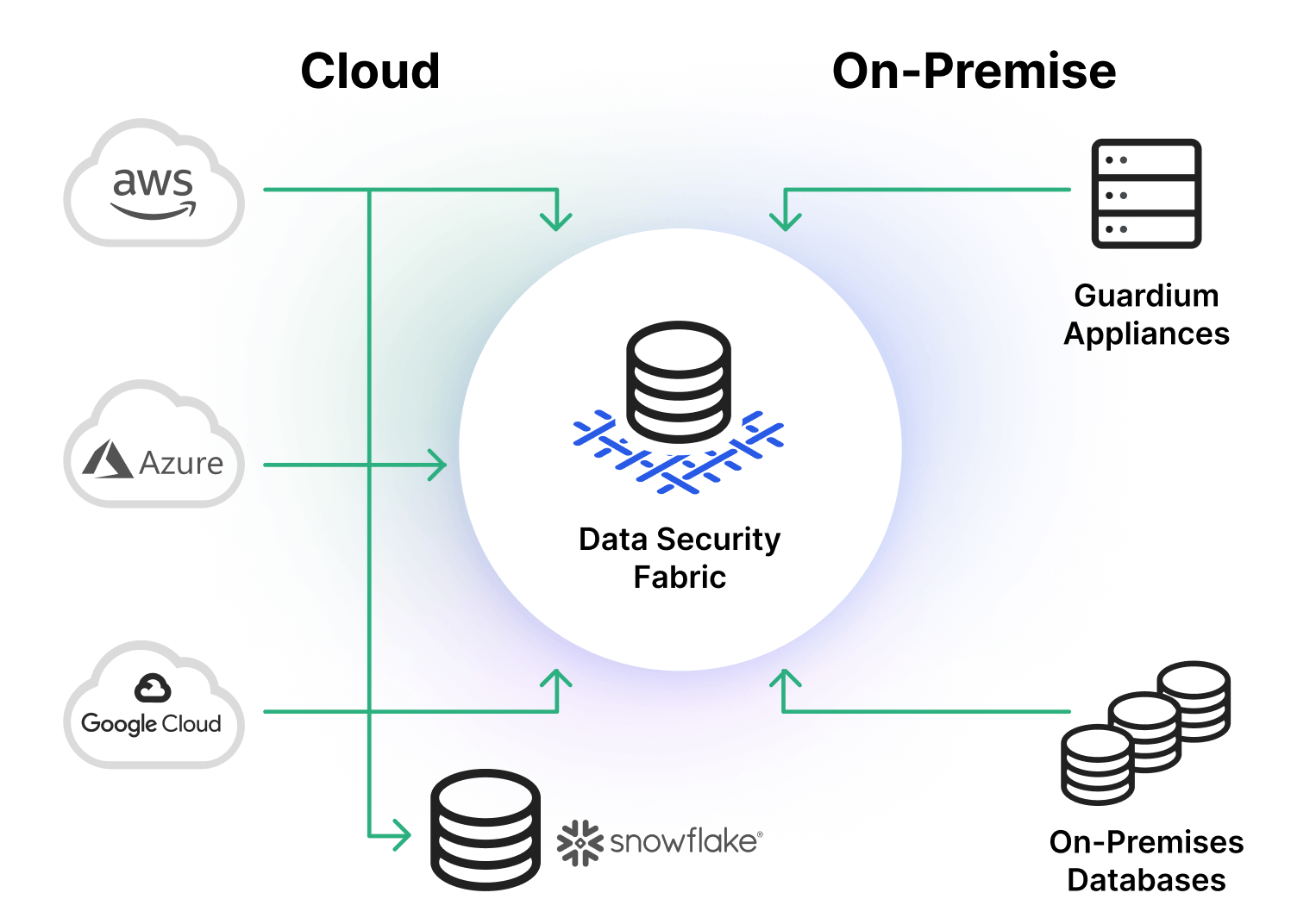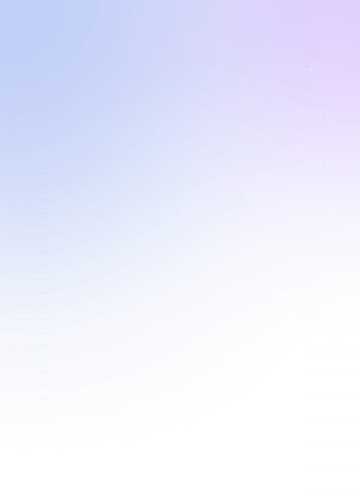 See how we can help you secure your web apps and data.