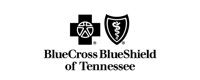 How it works
Our DDoS protection for websites complements the Imperva cloud web application firewall (WAF), which blocks hacking attempts and attacks by malicious bots.
A change to your DNS records ensures that all HTTP/S traffic to your domain(s) is routed through the Imperva network. Acting as a secure proxy, Imperva DDoS protection for websites masks your origin server IP and constantly filters incoming traffic, blocking DDoS traffic while legitimate requests flow through.
High-capacity network
The Imperva global network holds over 10 Tbps (Terabits per second) of on-demand scrubbing capacity and can process 65 billion attack packets per second. The Imperva network has successfully defended clients against some of the largest attacks on record.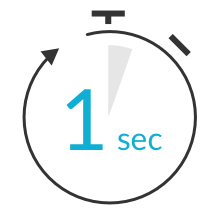 Fast attack mitigation
Imperva DDoS protection automatically blocks all assaults, typically in 1 second or less, and does not require that you notify us you're under attack. We offer a 3-second DDoS mitigation SLA for any attack, of any size or duration – the most aggressive in the industry.

Transparent DDoS protection
Legitimate visitors never encounter latency, CAPTCHAs or annoying wait screens when your website comes under attack.

IP masking
Imperva prevents direct-to-IP DDoS attacks by hiding the IP of your origin server. For maximum effectiveness we suggest changing your origin IP address after onboarding.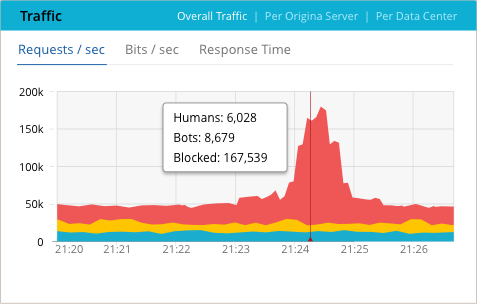 Continuous traffic visibility
A real-time dashboard provides you with real-time information about incoming traffic and the ability to update security policies on-the-fly.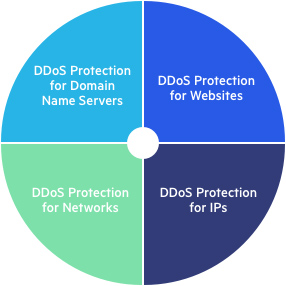 Comprehensive protection
DDoS protection for websites works in sync with our DDoS protection for networks and DDoS protection for domain name servers (DNS). Together, these shield DDoS protection customers against any and all DDoS threats.