Scuba Database Vulnerability Scanner - 3.0.2.11
Scuba Database Vulnerability Scanner is a free, easy-to-use tool that uncovers hidden security risks. Understanding what vulnerabilities could impact your organization is the first step in protecting your databases. Scuba scans popular enterprise databases for security vulnerabilities and configuration flaws, including patch levels. Available for Windows, Mac, Linux (x64 and x86), Scuba offers over 2,300 assessment tests for Oracle, Microsoft SQL, SAP Sybase, IBM DB2 and MySQL.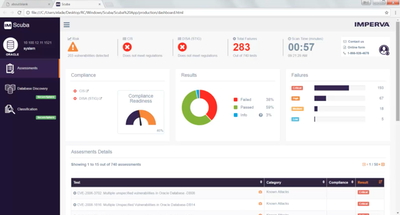 Overview Video: This short demo shows you how Scuba can discover database vulnerabilities and configuration flaws that may be a security risk to your organization.
Get this free tool by completing the form below. We will send you an email with the software download link.