A little exciting news to share:
Our team is very proud to announce that after months in the trenches, Incapsula has just been ranked #1 in the TopTenReviews 2012 Security and Performance Review. Incapsula went head-to-head with Cloudflare, Stingray, Barracuda, nsProtect Safe and dotDefender. When all was said and done, TopTen Reviews called Incapsula "the best option available for increasing your site's security and boosting performance."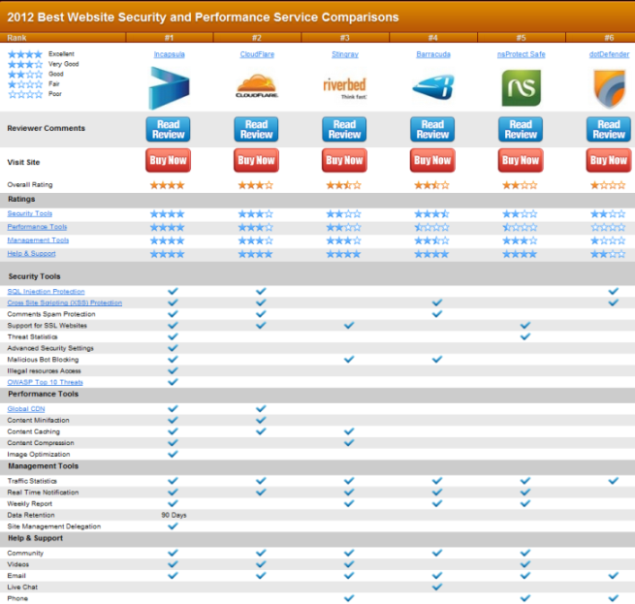 The results came about after comparisons in the categories of Security Tools, Performance Tools, Management Tools and Help & Support. Incapsula was the only company that received the maximum four-star rating in each category and also provided proof that Incapsula offers more features than any of its competitors:
In the Security category, Incapsula offered more than twice the security features and was the only company to offer advanced security settings, illegal resources access, and utilize the OWASP Top 10 threats.
In the Performance category, Incapsula was the only company to offer all of the following: Global CDN, Content Minifaction, Content Caching, Content Compression and image Optimization.
In the Management tools category, Incapsula was the only company to provide data retention for a period of 90-days.
One area the study didn't go into was PCI compliance, where once again Incapsula would have been noted as the only company to offer the feature amongst its competitors.
After all the comparisons were made, TopTenReviews summarized its assessment of Incapsula:
"If you want an effective website security and performance service Incapsula is the best choice. It is one of the few services out there that improves not only security but performance as well. Not to mention that it is also cloud-based, which isn't available for all of the security products out there. Having all of the features on the cloud will give you top security without sacrificing performance. You can keep your clients and customers safe without them even realizing it."
We've taken steps to ensure that Incapsula is the gold standard of website security and performance. That the hard work has paid off and we are now being applauded for our offerings comes secondary to knowing that our customers and their customers are receiving state of the art security and maximum website optimization.
Still, it's nice to be recognized.
Marc Gaffan, Co-Founder
Try Imperva for Free
Protect your business for 30 days on Imperva.
Start Now