Customers using Incapsula can view system status at Incapsula.statuspage.io (hosted at StatusPage.io). Of course, you can still do the same at our own website, status.incapsula.com.
Either status page provides you with the latest information and updates regarding our global servers, scheduled maintenance and incidents. Updates cover the Incapsula Management Console and API, as well as the status of Incapsula data centers and services in North America, Europe, Asia Pacific and South America.
Keeping you informed
The status page provides you with alerts in the following categories:
Network upgrades – Scheduled maintenance for our network
Increased latency – If it exists at data centers in your region
Connectivity issues – Regional or worldwide incidents
Outages – Service restoration updates
Regional connectivity – Maintenance and incidents in your geographic region (North America, EMEA, APAC, South America)
How to subscribe to Incapsula status alerts
Here are four simple steps to subscribe to our status page for notifications via email and text (SMS):
Send an email to our support team (support@incapsula.com) to receive email alerts. If you'd like to add other team members to also receive updates, please include their email addresses.
Add a phone number with country and area code if you would also like text updates sent to your mobile phone.
You'll receive a subscription confirmation via email.
If you prefer to receive alerts by SMS only, please submit your phone number and indicate you do not need the email alert.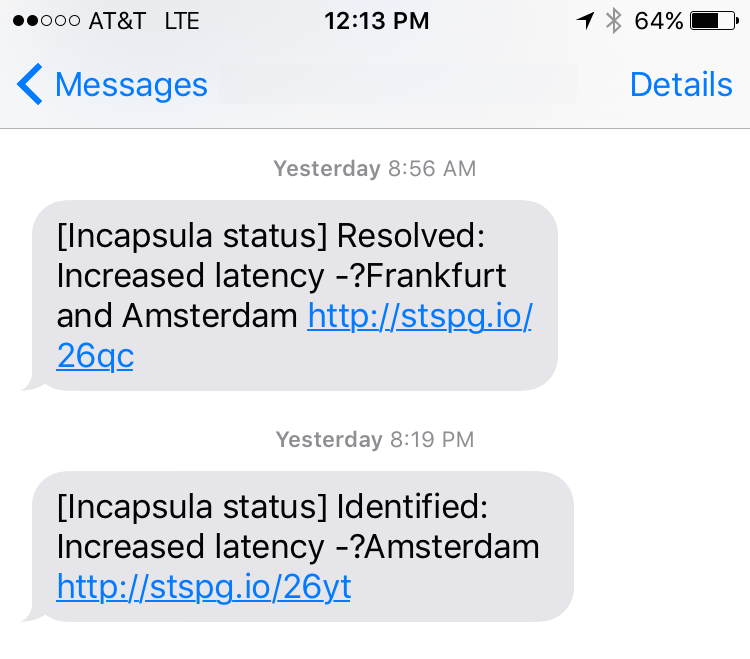 Please note: you'll receive all alerts (Management Console, API and regional) via SMS until you cancel your subscription.
To make changes to your email subscription at any time, go to your subscription management page which you can access via an Incapsula status email (shown below) or on your My dashboard.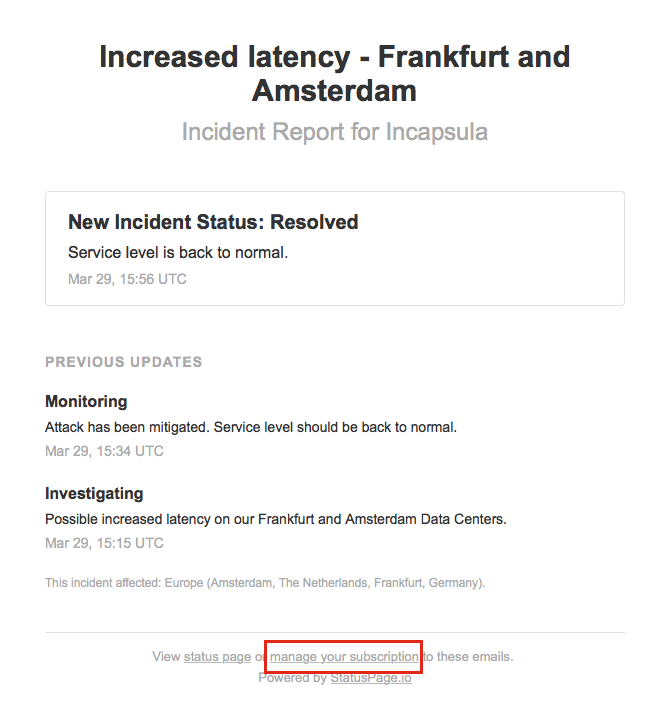 Here you can make changes to the alerts you receive such as Management Console, API

…or by region

…or cancel your subscription altogether.
We are also working with StatusPage.io to allow you to select the specific alerts you'd like to receive. For example, you can choose to see alerts for connectivity issues, outages or other incidents. We'll bring you an update here.
If you have any questions regarding your Incapsula subscription, please contact support@incapsula.com. If you have other questions or suggestions, please leave us a comment.