Many enterprises employ a multi-layered security approach that relies on a combination of disparate security technologies from different vendors. The challenge for security ops teams is to cut through the clutter and achieve visibility, while managing a diverse mix of security technologies.
Security information and event management (SIEM) solutions help manage multiple technologies by offering a centralized environment where users can easily access and analyze security information and alerts from a large number of sources.
Today we are happy to announce the general availability of our new SIEM Integration solution to seamlessly integrate Incapsula with several leading SIEM platforms, including HP ArcSight , Splunk and McAfee Enterprise Security Manager.
The early availability program for this solution was announced in April, and the solution has been in beta with more than two dozen enterprises and resellers. We'd like to thank our beta participants for their great contribution and valuable feedback, which have helped us improve the solution's stability, user experience and documentation.
This plug-and-play solution makes it easy for any enterprise customer to integrate Incapsula with its existing SIEM system.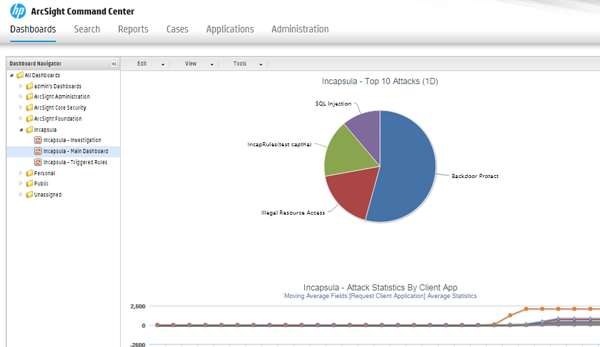 The SIEM Integration solution enables enterprises of all sizes to effortlessly assimilate security information gathered by Incapsula into their SIEM systems, providing a near real- time snapshot of all important security-related information and events within their network. Out-of-the-box packages include rules, custom dashboards and reports that are pre-defined for easy integration and visibility into incoming data from within each of the leading SIEM systems.
This new solution lets you maximize the value of your current SIEM systems, reduce time and effort related to integration, and simplify your security, compliance, and operations reporting.
If you have any questions about the SIEM integration and are a customer, please leave us a comment or send our support team a message. If you'd like to try Incapsula, please sign up for a free trial.