In 2008, the US 4x100m relay team was the favorite to win the gold medal at the Beijing Olympics. Not a massive surprise, considering that team included the second fastest athlete in history, Tyson Gay. It was a great shock though when the team blundered on the last exchange, dropping the baton, and failing to complete the race.
Exchanging a baton requires runners' proficiency and mastering the technique. In such a high-speed, nerve-wracking environment as the Olympic Games final race, without thorough planning and training, haste makes waste. Specifically in this case, causing the US relay sprint runners to lose their historic field dominance.
In today's software development world, while facing a long-lasting pandemic, organizations have been forced to promptly adopt technologies and adjust to global changes both in procedures and work environments.
One of the leading phenomena in this movement is the race to the cloud. Cloud migration allows companies to apply agile methodologies, use innovative technologies, utilize the cloud's infrastructure and reach their functionality objectives. Recent research bears this out. According to a recent report companies have accelerated their cloud adoption by "three years compared to the pre-pandemic adoption rate".
Such a rush includes dynamic changes that can affect the regular security planning and scrutiny companies have used in the past. This can obviously lead to mistakes and exposure. This situation makes Gartner's cloud prediction, "through 2025, 99% of cloud security failures will be the customer's fault", seem more accurate than ever.
Misconfiguration, bad practices, and compliance issues, are only a few examples from a vast list of potential mistakes humans can make in the cloud environment. These mistakes are more likely to occur in dynamic and complex environments that feature a rush to cloud migration where there are many security gaps, and proving once again that haste makes waste.
Unlike sports, where one usually has the option to revise a mistake in a next competition or race, cloud misconfiguration is an error with a potential of devastating results. The most common and serious outcomes are sensitive data leaks. These leaks can be quite painful to companies, hurting both their financial and brand status.
As of today, many companies still struggle to protect their sensitive data on the cloud. According to the Canalys 2021 report, in the last 12 months more records have been compromised than in the last 15 years; reaching a high of 31 billion data records in 2020 alone!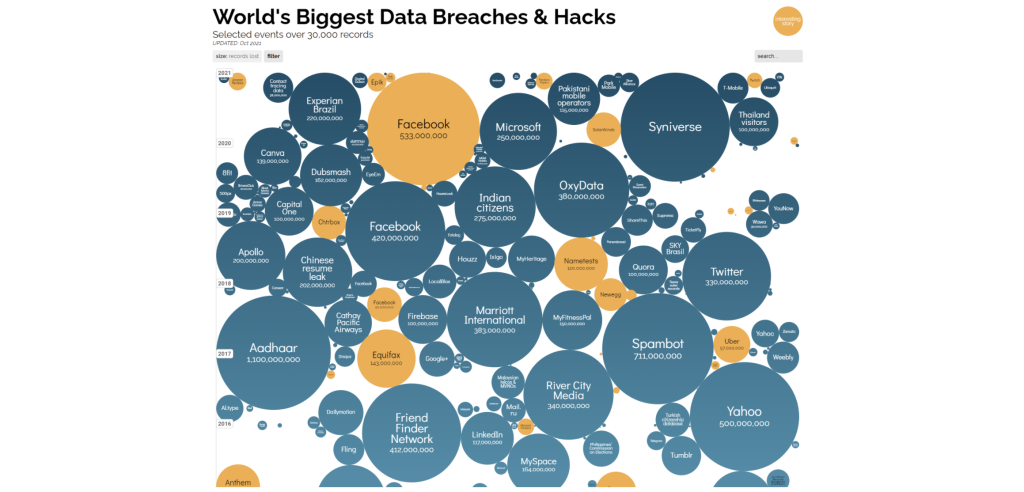 Source: http://www.informationisbeautiful.net/visualizations/worlds-biggest-data-breaches-hacks/
To minimize the risk level and eliminate human errors, companies need continuous monitoring of cloud data activities and comprehensive data visibility. Visibility is key, and if you can correlate between the level of risk and understand what type of data is at risk, you may well have discovered the formula for imparting a best practice security posture on your cloud databases.

Source: Imperva Snapshot Tool
Risk to data type correlation allows you to prioritize tasks and learn what databases and records need your immediate attention and have guidelines indicating what data to protect first on an ongoing basis.
Imperva Snapshot provides this unique positioning. The Snapshot enables you to assess your security posture and indicates which databases require your immediate attention. Imperva Snapshot generates a report to provide the visibility and correlation you need to prioritize your efforts and delivers unique knowledge and insights from cloud and data experts.
It was heartwarming to see that four years after the Beijing Olympics, Tyson Gay managed to earn a silver medal in the 4x100m relay race. Corporations, however, don't have the luxury for a second chance and definitely not four years later.
Make Imperva Snapshot your trusted cloud advisor, to close the security gaps and make sure that even in haste, you don't make waste.
Try Imperva for Free
Protect your business for 30 days on Imperva.
Start Now