R&D teams are pressured to deliver new or enhanced high quality products on time. Along with company success and R&D growth, higher pressure and backlog prioritization becomes a complicated task. Is it a losing battle?  
Back in the day, I was a barman in an American-style diner. Usually the restaurant was not packed, but we were overwhelmed come lunch time on Saturday. The kitchen looked like a war zone and the chefs had trouble delivering the orders. They handled them according to when the tickets were submitted, while fixing dishes that were already delivered to diners or replaced them completely. In addition they had to accurately time the arrival of different courses to each table. The chefs made many decisions regarding order and execution and, to complicate things, sometimes the restaurant manager pushed a few items from an important customer.
The R&D kitchen is pretty much the same. Orders for new products steadily come in from our product team, along with improvements and feature enhancements required by both internal and external customers.
In addition, R&D staff identifies technical debts required for keeping our service available while fixing reported bugs.
Keeping the R&D kitchen running on schedule is one of my main goals as R&D project manager. I have been in this role for four years and learned from experience that the process should serve the company's culture, organizational structure and goals. We've defined five ground rules to overcome this challenge:
Facilitate transparency across the company

Plan major feature releases every quarter

Develop in short cycles through dedicated workstreams.

Release a minimum viable product (MVP) first

Continually seek improvement
Transparency
We strive to give everyone a clear view of what R&D is currently working on, what's next, and which major features we'll release in the year. We created custom boards and workflows for each workstream on Jira to manage our day-to-day sprints. This helps us plan our roadmap and evaluate feature readiness.
Our roadmap board presents the task backlog that is prioritized automatically in Jira by criteria such as competitive value and revenue impact combined into a single score. The R&D team has an integrated view of the priorities list including major planned quarterly feature releases. The list updates dynamically: If we receive a request for a new feature, it's evaluated, scored and placed in the list.
The zoomable chart below shows the Jira model template that I can customize.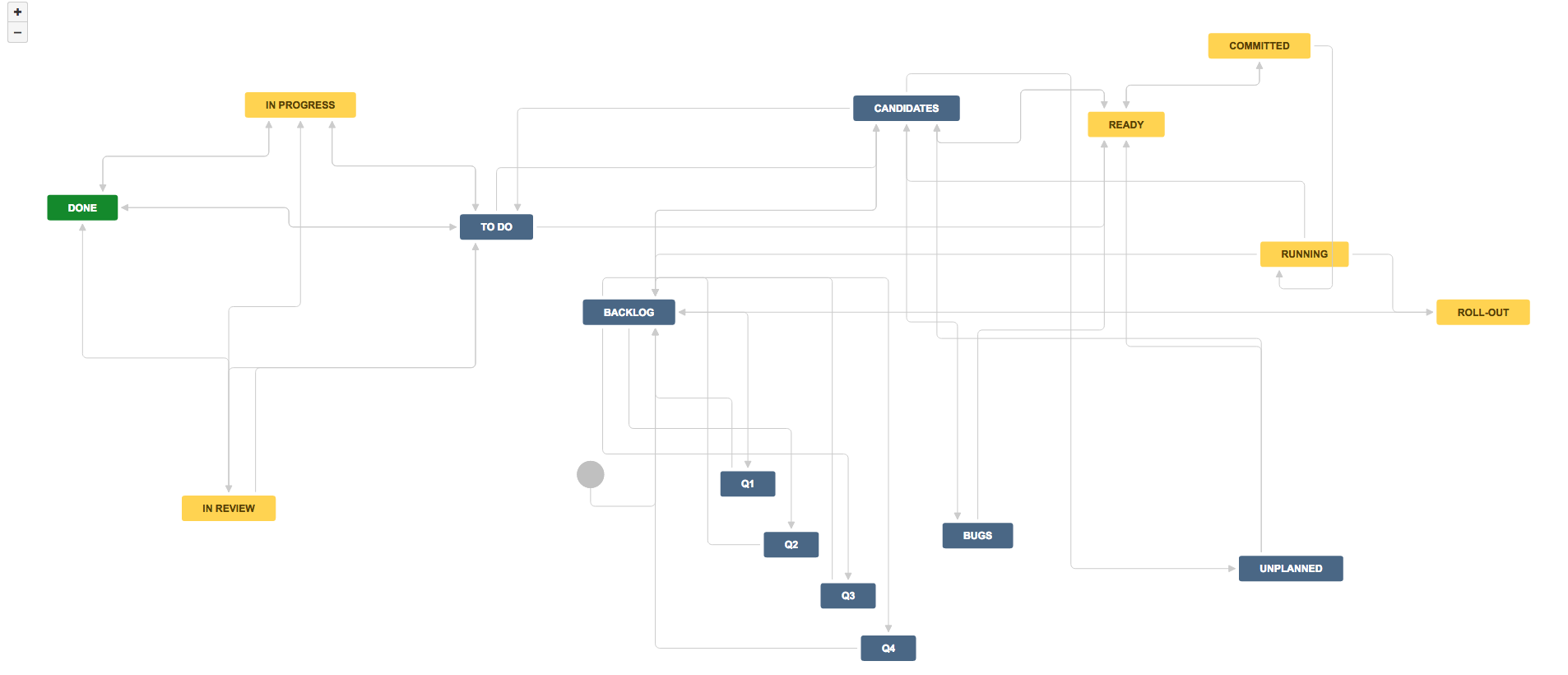 Prioritizing
A planning board helps us manage the life cycle from the time we pick an item from the backlog to the time it's ready, implemented and rolled out to customers. Here we also reserve a place for urgent or unplanned items that we may deliver in an upcoming sprint if they have a higher priority than the items pending in the backlog.
Workstreams
Incapsula has two main product lines: Website Security, our flagship offering and Infrastructure Protection, a new offering that will have more rapid upgrades in the coming years. Our organization follows the same structure, with dedicated teams for each workstream or product line. This gives each product line its dedicated backlog and resources.
For example, we evaluate a bug fix by setting a key performance indicator (KPI) to track the number of tickets and the time they remain outstanding. Each team takes the KPIs into consideration in their sprint planning as they may be working in sprints that last two weeks. We typically deploy to production on a weekly basis.
MVP
Once a feature makes its way to the planning board we create a project plan with milestones such as PRD, UX design, technical design, implementation and rollout. Our preferred approach is to complete short projects with fast release cycles based on defined MVP, collect feedback from the market, and release additional functionality in iterative phases.
Improvement
We involve all parties in the discussions and backlog prioritization during the planning process. This gives relevant stakeholders a place to view and influence our current and planned work. This results in working on prioritized items and, to use the kitchen analogy, not waste time on "special dishes" that have no value to all our diners. In seeking continual improvement, this approach lets us have a full view of what we did, how we are doing it, and if we need to improve the process. 
If you can't stand the heat…
The R&D kitchen is hot but it's an exciting place to be in. Handling the backlog is a challenge when you have multiple input and priorities — and limited resources to handle it, but it's a situation all technology companies face. We believe our approach ensures we'll deliver quality solutions and resilient technology to our customers and partners on time.