November 27th is Cyber Monday, the biggest day of the year for online shopping. If you're part of an ops team, you've spent months preparing for the online rush.
The team from Adobe Analytics predicts that online holiday shopping may break the 100-billion-dollar mark between November 1 and December 31 this year. Compare that to when consumers spent $83 billion during the holiday season in 2015. E-commerce sites like Best Buy and Amazon have already started their countdown to Black Friday.  With large crowds and long lines at the mall contributing to the popularity of e-commerce, still chances are that not all your site visitors are planning to shop.
Malicious bots represent a significant amount of total website traffic and can make your holiday season not as profitable. For example, they could push away human visitors by slowing performance, scrape information from your site and attack your network. With $40,000 being the average hourly cost of a DDoS attack on an e-commerce site, here are four ways you can keep your site available during peak traffic on Cyber Monday and other high-traffic dates. Our infographic (see below for the full graphic) gives you a view into what e-commerce looks like this year and how you can gear up for the crowds.
Speed Up Your Site with a Content Delivery Network
Data suggests that online shoppers will only wait five seconds for a web page to load before abandoning a website altogether. And, 68 percent of visitors will most likely never return to a poor performing site.
A CDN improves your site's speed and performance by caching it on servers close to your customers and improving your visitor's website experience.
Keep Traffic Moving with Load Balancing
Minimize downtime and improve performance and availability with load balancers. By distributing network traffic across a system of load balancers, shoppers can move quickly through the checkout process with little to no congestion.
Failover is often used in tandem with load balancing to reroute heavy traffic to a secondary server. This ensures that your customers do not experience any downtime.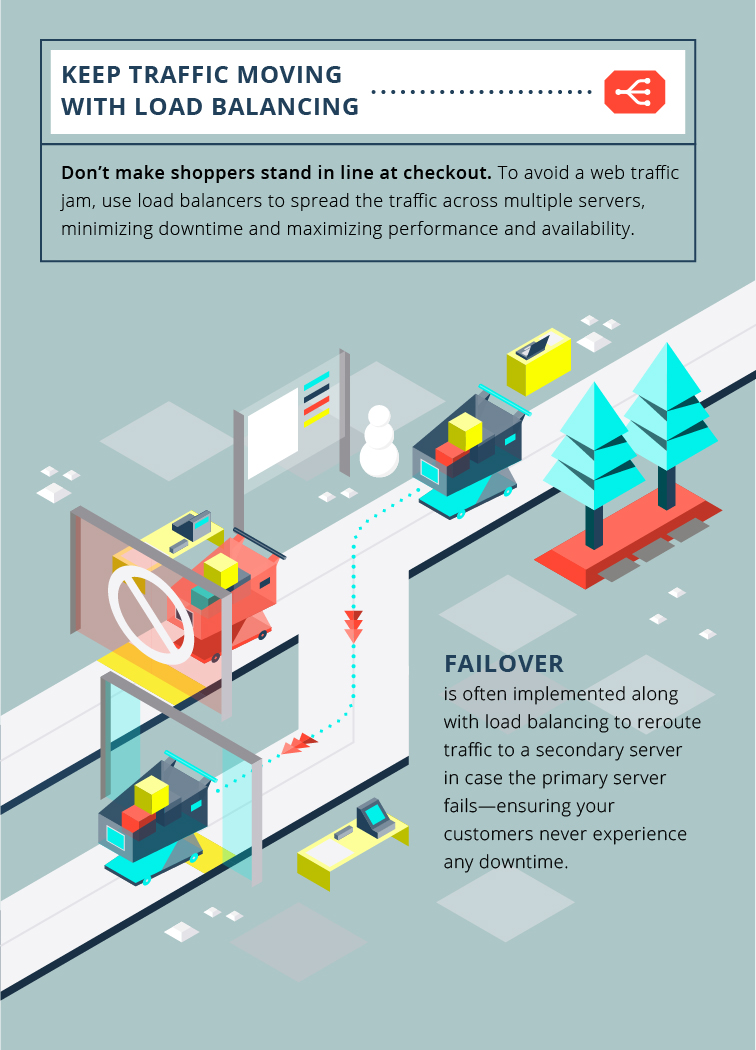 Stop Shoplifters with Website Protection
You'll most likely experience a huge traffic spike on Cyber Monday, but some of that traffic can potentially spell trouble for your website. More than 50 percent of all web traffic comes from bots, including bad bots.
Competitors and aggregators could be flooding your site with malicious bots to steal sensitive information and undercut your prices. But it's not that simple. Scraper bots, for example, can be good for an e-commerce site because they help aggregate information for consumers. An intelligent website protection service is able to detect beneficial bots and let them in while blocking malicious bots.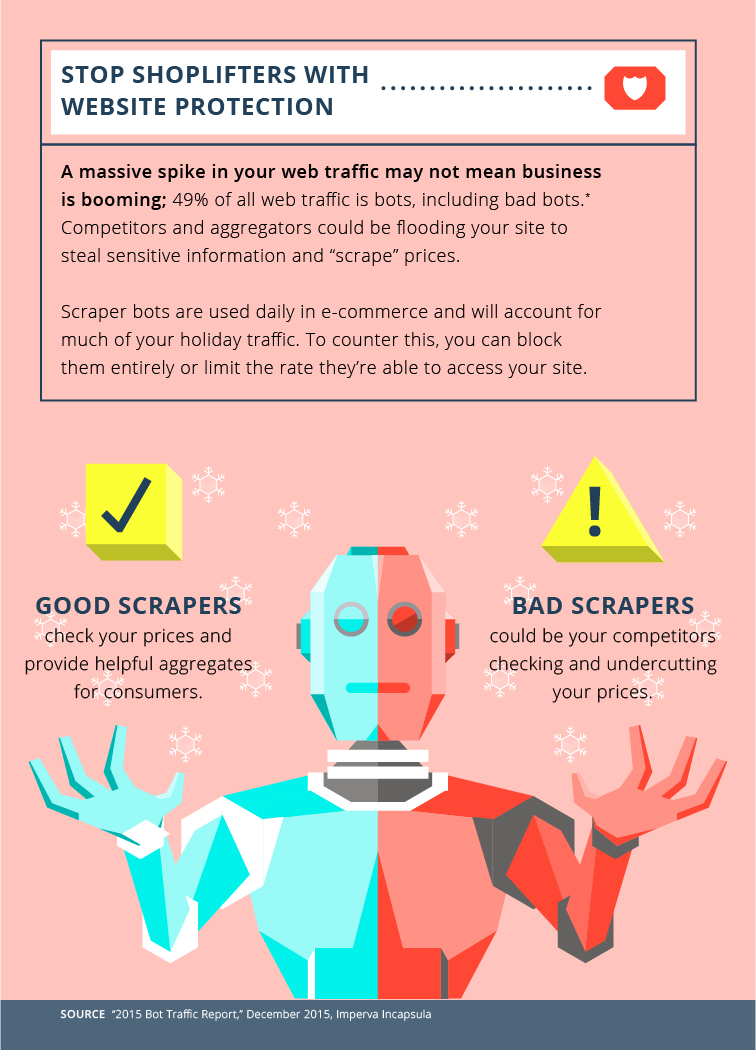 The DDos and DDon'ts of Cyber Monday Sales
The e-commerce industry loses significant revenue to the tune of $5 million in cyber crime per year. And 21 percent of that activity is cited as lost revenue due to loss of returning customers.
Protect your site from distributed denial of service (DDoS) attacks. Make sure all the nanny cams, home routers, Wi-Fi printers and other IoT devices that were sold last year don't come back in the form of a botnet attack this holiday season.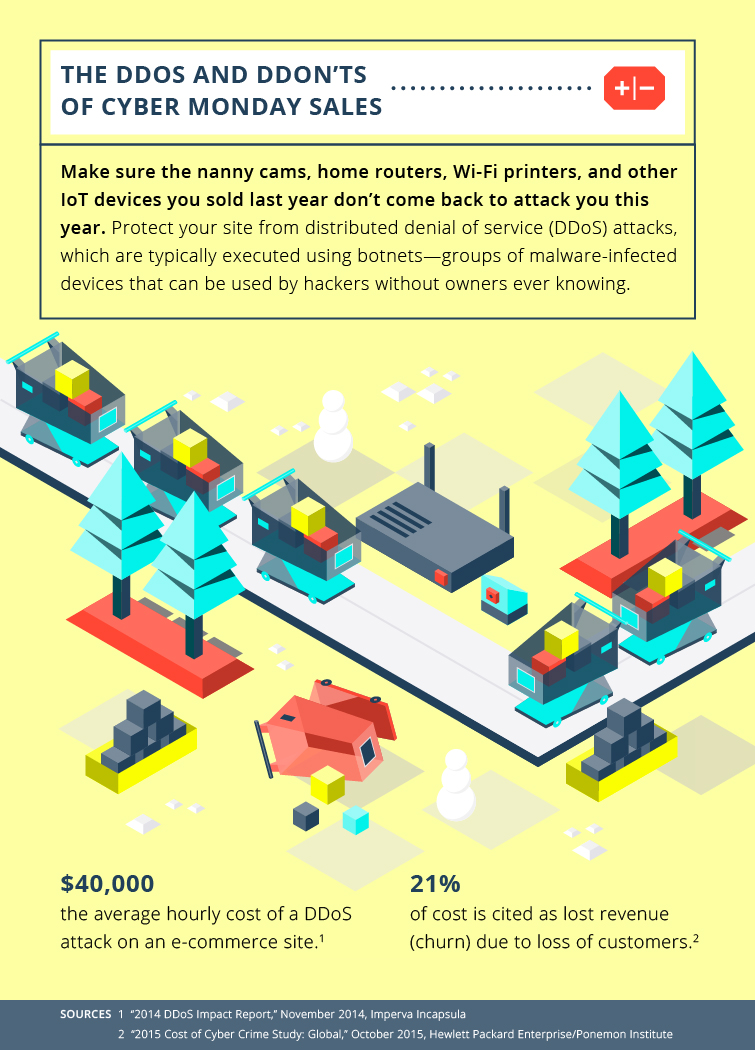 Consumers will be spending more than $1 billion a day online from Nov. 22 to Dec. 22. In a situation where every minute can mean more revenue, find out how to maximize your website's speed and improve its security at Incapsula.com.
Our infographic shows what e-commerce looks like this year and how you can gear up for the crowds.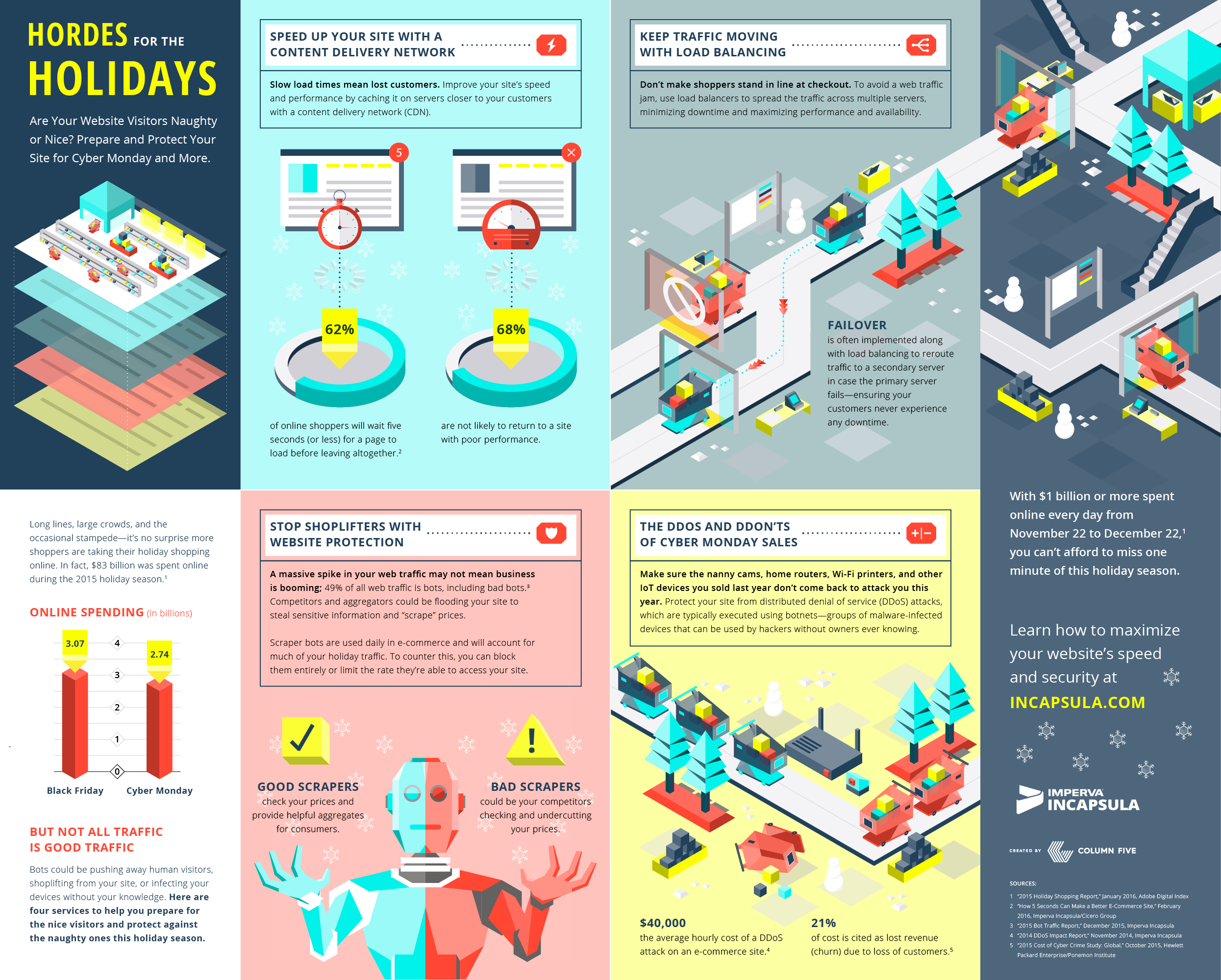 Editor's note: Post was updated in November 2017