The task of website management is often shared by multiple people, working from multiple locations, inside and outside of the organization. And yet, while your IT professionals, department managers and outsourced service providers may all need instant access to information provided by Incapsula dashboards, only few of them should have the ability to make changes the its security settings. Moreover, for security reasons, you may want to have control of their point of access, limiting it to a set of specific IPs to prevent any crucial information leakage.
To help you better manage your users' access, Incapsula recently introduced a new Multiple User Management feature that allows you to create additional users and assign each of them specific privileges.
Creating New User
As seen below, from within your account, after clicking the 'Add user button' you'll be asked to assign a username and provide an e-mail address. The system will then dispatch a verification e-mail to the address you've provided. Once verified this user will be added into your account and have access to it.

Setting User Privileges
Once created, each user profile can be assigned with one or more of the following privileges:
 Permission to add and remove sites
 Permission to modify site settings
 Permission to edit account settings
 Full control of users and permissions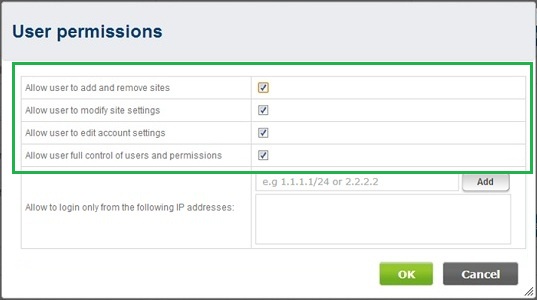 Setting IP Restrictions
Incapsula also allows you to set specific IP address for each user's account access. This prevents illegal access attempt to your account, in the case of someone's username and password being compromised. For example, if you know that User X will only access the system from home and office IPs, you can incorporate this information into its user profile and even if his password is compromised or his laptop gets stolen your account will still be safe. This is also very useful when working with an outsourced service provider. In that case you have very little control over the handling of your access information but with IP restriction you can still tighten security, with access only permitted from a predetermined location.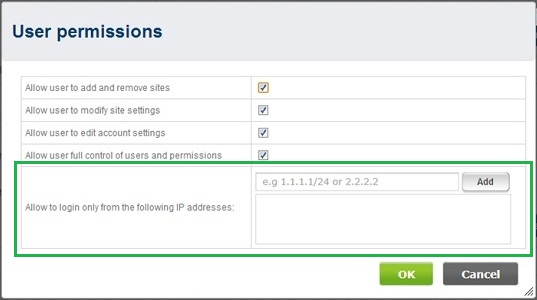 Remember: More Account Access Control = Better Security
Get the latest from imperva
The latest news from our experts in the fast-changing world of application, data, and edge security.
Subscribe to our blog