Today Incapsula is releasing a revamped version of our weekly email report. With it we address two popular requests by our clients:
Consolidated view – In the past we would provide a separate email report for each domain on the Incapsula service. Today, with most of our clients hosting multiple domains under the same account, and with some accounts having grown to hundreds or even thousands of domains, this method has outgrown its usefulness.
High-level insights – As the scope of Incapsula-monitored data continued to grow, we received numerous requests for a 'Top Stories' report — one that would automatically highlight the most recent and most interesting activities. Our new report does exactly this — both by providing aggregated account information, and by introducing a new 'Insight' section, which helps you keep of the most noteworthy traffic and security trends.
The new weekly report from Incapsula is available now. Currently it will be sent alongside our legacy domain-level reports, the latter to be phased out over the next few weeks.
To learn more about Incapsula's analytics and control options join our webinar:
Incapsula UI Walkthrough:
Tips-and-tricks to maximize your website's speed and security potential.
Explore It for Yourself!
The new report aggregates all crucial account-level information in one single and easy-to-follow document.
Instead of blathering on about it we thought we would let you explore it for yourselves. (Click on any section for more information about its content.)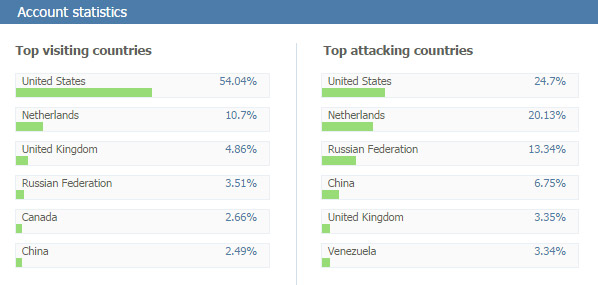 This section lists geolocation data, collected from all whitelisted and blacklisted sessions for all of the domains within your account.
It offers a bird's-eye-view of your legitimate traffic in addition to the origin of threats against your websites.

This section presents statistics about your bandwidth consumption and the overall effectiveness of the Incapsula caching services.
Request handling data show the percentage of requests served from the Incapsula cache; this represents your
conserved bandwidth.
Here you can also see how many requests are still served by your own servers, in addition to how many were blocked by various security policies.
Cache distribution stats let you drill down into your CDN caching performance.
Here you can review the effectiveness of your own custom cache rules, while also gauging the contribution of the Incapsula Standard and Advanced Caching modes; the latter using machine learning to automatically cache dynamically-generated (and thus typically 'uncacheable') objects.

Here you'll find consolidated data regarding recent security threats against your site network.
Security alerts information displays the distribution of blocked visits, segmented by the reason for their blacklisting. Here you will also find the number of suspicious bot sessions; these may or may not have been blocked depending on your custom security settings.
WAF alerts data are session counters for all recent attack attempts, segmented by vectors.
Note that these are a HTTP sessions-type counter. Consequently, the number of DDoS attempts shown only refers to the number of bot sessions made during layer 7 DDoS attacks.

This section shows your custom security rules, as generated via our
IncapRules
engine.
Next to each rule you'll find the number of sessions for which it was activated and the type of action that was taken.
Having this information helps you assess the effectiveness of your rules.
An abnormally large session number may indicate a sub-optimized rule that generating a high percentage of 'false positives.'
Conversely, an abnormally low value may point to an inefficient rule that doesn't respond well to threats it was designed to block.

Here you are presented high-level data for the most visited domains within your account.
This view lets you to drill down into the above-provided consolidated data, offering specific context for the overall numbers.
This view also helps to easily compare statistics for different websites.
Benchmarked against one another, these can be used to identify underperforming sites and extensively-threatened domains.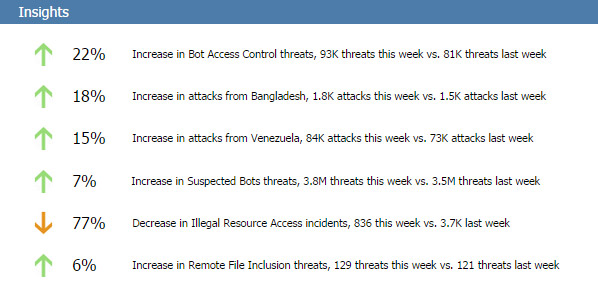 The Insights section is your 'Top Stories' report, providing you with the latest and most noteworthy occurrences.
This data is intended to identify arising security threats and prompt a preemptive response by the account's operator.

Here you can view the current status of your open support tickets.
We hope this information will prove useful to those of you who have multiple support inquiries and are looking for a hassle-free way to follow their status.

The latest blog posts from Incapsula are a click away.
Reading them help you stay abreast of the latest security research from Incapsula, our new and upcoming features and other observations regarding website speed, security, availability, and everything in between.

Here is where you'll find information regarding your account's plan, to help keep track of your initial purchase details and currently available resources.