To create meaningful change, you need to be the difference you wish to see in the world.
At Imperva, we're taking meaningful action and investing to create a workplace that brings together all voices, experiences and identities. We recognize that true innovation requires diversity of thought, experience and background. As a leader in cybersecurity, we will never stop our efforts to give all current and future employees a platform to be themselves and do the best work of their career in an honest and authentic way.
As a global company operating in many unique geographies, we recognize that discrimination is not the shortcoming of one country or region. It's a multifaceted weakness that is limiting the potential of organizations, societies and nations. At Imperva, we view diversity, equity and inclusion (DE&I) as a business imperative — a strategy that better supports our global team, helps strengthen our company performance and enhances our customer impact. Our hope is to actively contribute to building a better world for all current and future generations.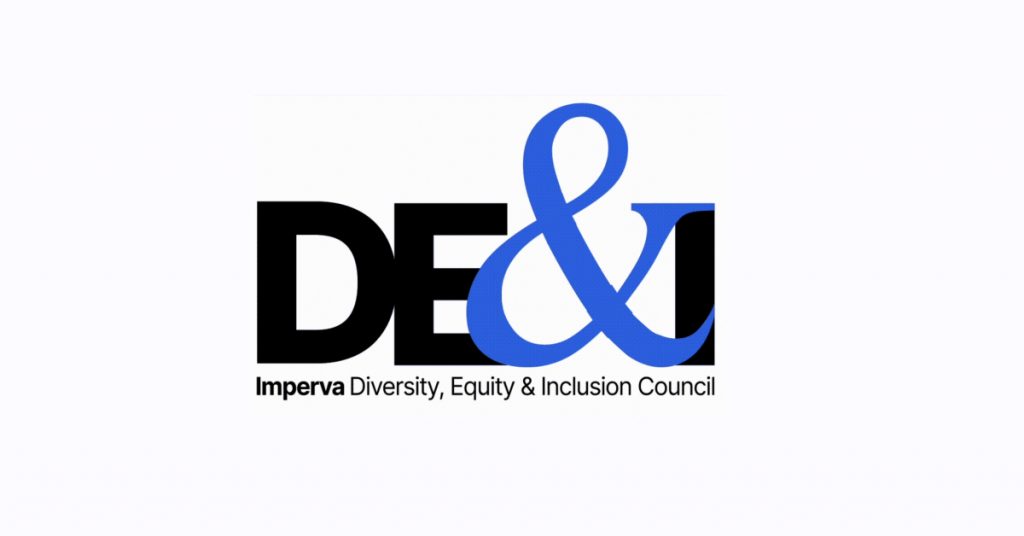 Working Towards An Inclusive Workplace
Like many technology companies, Imperva understands that DE&I is more than just a people issue. It's why we took the time to review the technology we build and our own day-to-day business operations to ensure we are consistently creating an inclusive environment for our employees, customers and partners. Last year, we began the process of adding more neutral language into our product sheets and technology, removing divisive language like "whitelist", "blacklist", "slave" and "master". Further, we reviewed and are actively working to change the nomenclature we use internally for legal documents, RFPs and more.
Earlier this year, Imperva completed an internal gender pay equity audit by comparing individual job roles at each level and evaluating the salaries of male and female peers, with the goal of ensuring compensation is on-par with industry standards and equitable internally. Further, we have reviewed our new hire offer process to ensure pay equity continues to be a standard.
In November 2020, we assembled the company's first Diversity, Equity and Inclusion Council with a group of 21 employee volunteers from across all departments and regions to help accelerate the pace of change within the organization. The Council has a diverse makeup of ages, racial and gender identities and sexual orientations, as well as backgrounds, beliefs, interests and life experiences. The group is empowered to make formal decisions for Imperva, which is underscored by the performance goals attributed to each Council member in 2021 to ensure their success and maintain accountability.
In addition to their day jobs, this team is responsible for driving a common mission: to help build an inclusive and respectful environment where employees feel welcome and valued. Their work will focus on four key areas:
Marketplace: Facilitating a change in how Imperva does business internally and externally with outcomes aimed at creating more diversity and equity.
Career: Evolving the way Imperva attracts, develops, advances and retains talent.
Culture: Building and sustaining an inclusive environment that is built on respect, awareness and acknowledgement of individual experience while fostering long-term innovation and high performance.
Community: Promoting and encouraging engagement – internally and externally — to improve awareness for DE&I.
"Innovation is born from fresh ideas and perspectives – often from those with unique life experiences. This is why investing in DE&I is a business imperative for us," says Pam Murphy, CEO, Imperva. "As an industry leader, we recognize that true innovation will stem from employees who can confidently show up as their authentic selves. When more voices and ideas are included, it helps inform ground-breaking ideas. It fosters a more meaningful company culture while enabling more effective relationships with employees, customers and partners. I'm proud of the journey Imperva is on and am confident our investment in DE&I will support long-term growth."
It Starts By Listening
While the investment Imperva makes in DE&I is supported at the highest levels of our company, I am most proud of the grassroots efforts led by employees at all levels. The work we've done already, and will continue to do, was spearheaded by employees who wanted to be the difference they wish to see in the world. As a leader, it's a reminder to listen to your team and understand what invisible boundaries and limitations are hindering their full potential.
It's no illusion that the technology industry has historically favored certain populations and operated through a limited lens of experience. Change will be uncomfortable, and at times, seem impossible to achieve. But, there's an opportunity now to spark meaningful, long-term change. In cybersecurity alone, more than 500,000 job postings are unanswered and the skills shortage continues to expand. Now is the time to uplift marginalized communities and extend opportunities. At Imperva, we're committed to evolving the way we think, the way we recruit, the way we work and the way we interact with each other.
I look forward to periodically updating you on the progress our team is making and the impact our commitment to DE&I is having on our business, customers and industry.
Try Imperva for Free
Protect your business for 30 days on Imperva.
Start Now