First of all, let me introduce our company. KovoKs B.V. primary focus is on small companies located here in The Netherlands. For those companies we try to solve all their IT-problems and try to be a real partner for them. This means we offer a wide range of services to them. Like setting up Linux-servers, taking care of the e-mail and spam, supporting the people within the company, but also developing and maintaining their website.
Because we focus on the smaller companies, we have lots of them. Some need us more regularly than others. Generally small companies do not have large budgets for website development. 15 years ago we coded the websites ourselves, completely from scratch. Times have changed though: almost all websites we currently deliver to customers are based on one of the popular Content Management Systems, like Drupal, Joomla or WordPress. These systems deliver enormous amounts of out-of-the-box features and gives us the possibility to add value due to our skills in changing the design to fit the companies style and add functionality specific for their business.
Doing all we can, but we need that something extra
The last couple of years we have seen an increased amount of hacks, targeting the popular CMS's we host. It seems there are servers out there that do nothing else than trying to gain access to the site. 24 hours a day, 7 days a week, continuously. This is contrary to the sites we made ourselves from scratch, those seem to get less attention from hackers as the source code is not open and when they get access it is only for that one site. With a weak spot in Joomla, you can exploit many, many sites, hence that's the more attractive option to hackers.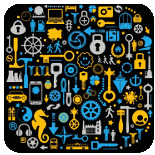 When we first found out that this was happening we wondered what to do. First we decided that we did not want to be an ordinary webhoster and we added value by offering hosting which included automatic installation of security updates of the chosen CMS. We wrote some scripts that automatically updates all the sites of our customers.
This held down the fort for a while, but then some of the sites were still attacked. The problem is that each customer installs extensions to the core of the CMS. It seems that a lot of these extensions are written by people that have less experience with writing code that is hacker proof. And this shows, lots of the attempted hacks we see are targeted on specific extensions.
For us it brought up a new problem. Keeping the core of all the sites up to date is doable. Keeping up with all extensions is virtually impossible. We do keep an eye on some extensions. We also have monitoring tools that should detect problems pretty quickly. But that's only warning us whenever the hack has happened and that's too late.
No, you can't even try your key!
We looked around for some solution that filled this gap between spending 25h a day patching the sites of our customers and monitoring and only react in hindsight. We found Incapsula. Incapsula can monitor traffic and tries to detect bad visitors. To customers I generally compare it to a real world shop. We have locks on all the doors to stop unwanted visitors, but Incapsula will close the shutters whenever they recognize an unwanted visitor. Bad visitors won't even be allowed to try to see if the key fits the lock.
Incapsula offered us a reseller program. This allows us to move sites in and out of a certain plan with a few clicks. Whenever we hit a problem with one of our customers, we get fantastic support from Incapsula. The interface you get already provides just the right settings and has extensive possibilities to find the cause of the problems, but sometimes you just need that second set of eyes of a pro.
Added Value
We offer the plans to our customers and they can see what fits their needs. Some customers are only concerned about the security, but most are also very interested in the caching Incapsula has to offer. Delivering Incapsula services in The Netherlands means that our customers can have Dutch support and can call a Dutch phone number. It gives us an extra added value to our services so working with Incapsula is a real win-win situation.
We think Incapsula protection should be part of any payed hosting plan and it each and every provider should offer it in their portfolio. Using Incapsula doesn't mean that you don't need to care about updates. It also doesn't mean that you don't need to care about monitoring events. But it does mean you'll sleep just a little bit better.

About the Authors:
Tom began his career as webmaster at IDG Netherlands and in that capacity was involved in the design of WebWereld. He moved on to become a co-founder and co-owner of KovoKs hosting. His free time is devoted to the development KDE (Linux OS) and his two cats.