Today we are excited to announce the parallel activation of four new data centers. These will enable us to further improve our worldwide service to clients in strategic regions.
Our new data centers are located in:
Sao Paulo, Brazil
Toronto, Canada
Warsaw, Poland
Madrid, Spain
This coordinated deployment brings the total number of Incapsula data centers to 25, thereby extending Incapsula's global coverage, improving its resilience to DDoS attacks, and further enhancing performance for all Incapsula content delivery network (CDN) clients.
Location, Location, Location
Our network team has put a great deal of thought in choosing the new data centers locations. As usual, the governing principles of our deployment strategy are 1) optimized network connectivity, and 2) the business needs of our clients.
Sao Paulo, Brazil
As Latin America's demand for Internet bandwidth continues to grow, the route between that region and the US/Canada has become the most highly-trafficked in the world.
Meanwhile, Brazil alone ranks fifth among countries having the highest number of Internet users, with over 107 million Internet-connected citizens who account for over 50% of the country's overall population.
To provide our clients with better access to this vast online market, we established a point of presence (PoP) in Brazil to serve as our first foothold in South America. For that, Sao Paulo was an easy location choice, as it has the highest traffic density in that part of the world.
Leveraging its geo-location, Incapsula's new Brazilian data center connects directly to PTT.BR (the Brazilian Internet exchange), enabling us to take advantage of peering opportunities with other providers to further improve our coverage in the region.
Toronto, Canada
The Toronto data center was established to address a popular demand of our North American clients, many of whom expressed a need for a Canadian PoP to comply with local data privacy regulations. These include requirements of both the Canadian Privacy Act and the Personal Information Protection and Electronic Documents Act (PIPEDA), the latter governing privacy for the Canadian private sector.
With our new Canadian data center up and running, we are now able to meet the needs of local and global enterprises who wish to operate in Canada.
Madrid, Spain
This new data center was another popular request made by Incapsula's Southern European clients who recognized the business potential of Spain—the Eurozone's fourth-largest economy, with over 33 million (72%) Internet users. On top of that, Madrid drew our attention by being a major Internet hub having a high level of traffic.
By adding the Madrid data center, we provide our customers with a better point of entry into Spain's lucrative online market, improving both coverage and performance in the region.
Warsaw, Poland
Similar to Spain, in 2014 Poland's economy recorded its largest expansion in three years; this momentum is expected to carry over into this year. As the economies of developing countries grow, so does the level of Internet connectivity (particularly from mobile devices).
Accordingly, Polish Internet-citizenship already numbered 24 million users in 2014—an impressive 65% of the country's total population.
The Warsaw data center enables us to extend our footprint into Poland and other high-growth economies in this region. This new data center also connects directly to the Polish Internet Exchange (PLIX), allowing us to peer with other providers and serving as a key gateway to Eastern Europe.
The Bigger Picture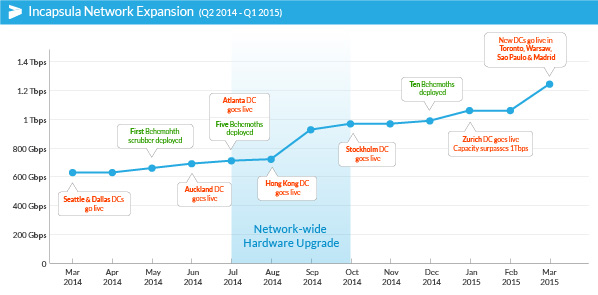 (Click here to enlarge)
The concurrent launch of these four data centers comes as a part of Incapsula's ongoing network expansion plan. As a part of that plan, our network engineers worked to deploy eleven new data centers over the past twelve months.
In that time they have also upgraded the equipment at most of our existing data centers to further scale our network capacity, which now exceeds 1 Tbps (terabit per second).
Together with the steady rollout of more and more new Behemoth scrubbing servers, these equipment upgrades further improved Incapsula's resilience against DDoS attacks—reinforcing its position as one of the leading DDoS protection services.
In parallel we also continued to invest in other improvements to our core infrastructure, including the recent introduction of free IPv6 support and the new system status monitoring options.
Stay tuned as we`ll continue to inform about new service updates that will help make Incapsula faster, more secure and more user-friendly than ever before.