Recent digital market outages have proven the fragility of network infrastructure. When your primary service provider experiences an unexpected outage, your infrastructure is left unprotected and vulnerable to a DDoS attack. The downtime you face waiting for your DDoS mitigation to start working again, could leave a long enough period for attackers to cause substantial damage to your business.
In recent months DDoS attacks have become a boardroom level topic as top level executives recognize the need for increased resiliency in the face of a growing threat to their network security. DDoS attacks are not in decline. In fact, according to the Q1 2022 DDoS Threat Landscape Report, Layer 3 and 4 DDoS attacks, the type that target the network and transport layers of your infrastructure, almost doubled in the first two months of this year. And, while 20% of attacks lasted an hour or more, almost 62% of all Layer 3 and 4 DDoS attacks in Q1 lasted only seven minutes or less. Shorter attacks are dangerous as not only can they be used as a distraction technique as part of a larger more tactical multi-vector DDoS attack, they can also fall under the radar of your DDoS mitigation solution and go completely unnoticed until the maximum damage has been done. This highlights the need for Always-On DDoS protection to mitigate automatically against any attack, without any disruption to your network's performance.
Matters of resiliency
Most enterprise organizations will have taken the necessary precautions and likely have a DDoS mitigation solution in place to protect their critical infrastructure. Your infrastructure is protected and your solution will start to mitigate as soon as bad traffic is detected on your network. But the reality is that software and hardware can fail. As we have seen in the last 12 months there have been a number of cloud provider outages which have left their customers unprotected, albeit unknowingly, and vulnerable to an attack. In many cases a cyber attack is what causes the cloud service provider outage in the first place but the inverse of this is that cyber criminals will also be ready to pounce when they hear of a high-profile cloud or other service provider experiencing an outage. It is highly probable that they will seek to cause as much damage as possible by targeting customers exposed by the disruption. And in the case of an outage impacting a major DDoS mitigation provider, attackers will immediately attempt to leverage the situation to their own advantage by targeting unprotected networks. As far-fetched as this might seem today, a number of major DDoS mitigation solution providers experienced network disruption due to outages.
According to a report1 by A Thousand Eyes, 'The biggest outages of 2021 had one thing in common: they affected major infrastructure or services providers and, as a result, affected large numbers of enterprises and end users.'
Top network and service outages in 2021
Facebook – Oct 4
AWS – Dec 7
Fastly – June 8
Akamai Edge DNS – July 22
Akamai Prolexic Routed – June 16
Verizon – Jan 26
Comcast – Nov 9
Cloudflare Magic Transit – May 3
Azure AD – Dec 15
Facebook – April 8
The common theme running throughout all of these outages is that for end-user organizations there are a number of direct and indirect services and dependencies, often beyond their control, that make business continuity difficult when their cloud service provider goes down. But how can they ensure their network is protected in the event their primary DDoS mitigation provider goes down? Recognizing how much damage could be done if their critical infrastructure were left unprotected, organizations are starting to wake up and smell the coffee.
Contingency DDoS Protection for Networks
While difficult to quantify, Imperva recognizes the potential for damage to an organization's infrastructure if it were to be targeted by a DDoS attack while its primary DDoS mitigation provider was experiencing an outage, and we have developed a new business continuity solution to address the issue.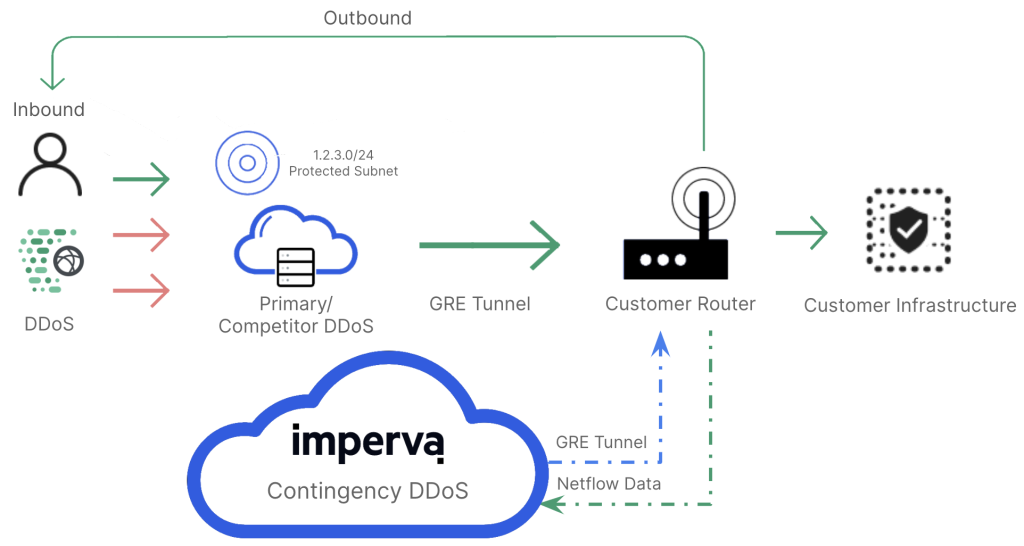 Imperva Contingency DDoS Protection offers a robust and cost-effective business continuity strategy to safeguard your critical infrastructure from attacks in the event of an outage with your primary DDoS protection provider. Our unique contingency offering provides leading DDoS mitigation to prevent downtime during a lapse in coverage of your critical services. For a reasonable cost you are guaranteed network resilience and true peace of mind.
Benefits of Contingency DDoS Protection
Safeguards against DDoS attacks during an outage
Industry-leading DDoS mitigation at a reasonable cost
Reduces risk of downtime and business disruption
High-performing solution without the need for in-house experts
Fast onboarding and seamless operations
Infrastructure resiliency as part of your contingency plan
Ensures business continuity
True peace of mind combined with an optimal TCO
Contact peter.reidy@imperva.com to find out more.
1https://www.networkworld.com/article/3648352/top-10-outages-of-2021.html
Try Imperva for Free
Protect your business for 30 days on Imperva.
Start Now