This week, at WHD global convention, we will be revealing our new Custom Branding options. These new capabilities were designed to offer more flexibility for our premium partners, allowing them to market Incapsula services while still maintaining their own brand elements.
What is Custom Branding?
Custom Branding features were designed to support various partnership opportunities and are a result of growing demand from our partners, who have expressed their need for seamless integration between their brand and our security and acceleration cloud service. Custom Branding allows our partners to market Incapsula as a natural extension of their core offerings – in a way that is logical, effective and helps maintain their brand posture.
How it Works
Custom Branding is a set of capabilities that can be used to customize all the customer-facing element of Incapsula and also include the elements that end users may see when accessing a customer's website.
With Custom Branding Incapsula partners can:
Re-brand our dashboards
Customize our reports and e-mail notifications
Modify 'Blocking Page' templates
Refer to their own support, FAQ and other resources
Use custom/vanity DNS CNAMEs
Use their own Fav icons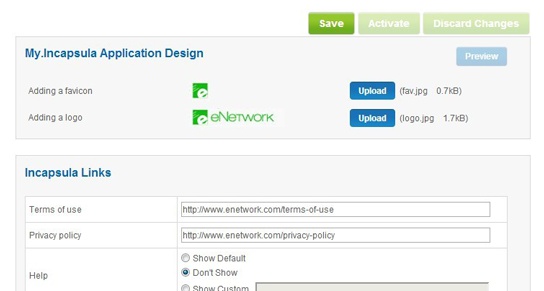 Back-end: Custom Branding control panel
These all are in addition to our other partner integration capabilities that include:
Provisioning API
Data extraction API
cPanel integration
Single Sign-on
About Incapsula Partners Program
Incapsula Partners Program allows hosting companies, MSSPs, web developers and service providers to make their client's websites faster, safer and more reliable. Incapsula partners benefit from cPanel integration, full API support and the choice between a Reseller and an Affiliate option.
Our hosting partners also benefit from reduced server load, due to our bot filtering and caching capabilities and our advanced security features will prevent collateral damage to their servers and other customers.