It's great to be able to join an organization that's moving as fast as Incapsula. Today I want to discuss this momentum by sharing our network expansion plans for 2014.
With the first quarter behind us, and with three new data centers already in place, I`m excited to announce our commitment to doubling Incapsula's network size – expanding from 16 to 30 Points of Presence (POPs) by the end of the year.
With these new data centers we expect Incapsula's overall network capacity to surpass 1.5 Tbps. Plus, each of Incapsula's POPs will be upgraded to cache 30 times more than its current capacity by adding new border switches with increased port density.
New Data Center Locations
The locations of our upcoming data centers were carefully chosen for optimized network connectivity and for their ability to reflect the actual needs of our clients. They will augment network presence in high-demand regions, as well as providing coverage in new geo-locations.
This is how our network will look by the end of the year:
| | |
| --- | --- |
| Western Hemisphere | Eastern Hemisphere |
| Atlanta, USA | Auckland, New Zealand |
| Lima, Peru | Hong Kong, China |
| Madrid, Spain | Milan, Italy |
| Mexico City, Mexico | Mumbai, India |
| Sao Paulo, Brazil | Stockholm, Sweden |
| Toronto, Canada | Seoul, South Korea |
| | Vienna, Austria |
| | Warsaw, Poland |
Even as we speak, some of these locations are already in the process of early deployment, and few are just few steps away from official activation. Still, it is possible that a position of few of the locations will shift, depending of the availability of local network resources.
This is how our network will look like by the end of the year: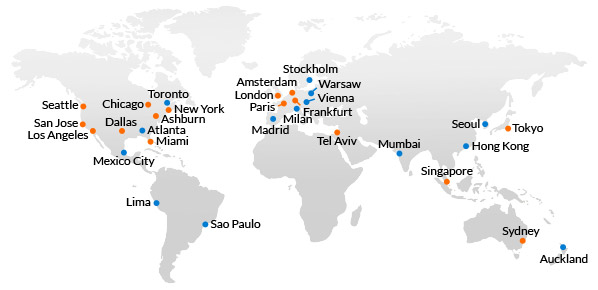 2013 Was Great, But We are Just Warming Up
In 2013 the number of websites protected by Incapsula grew by over 600 percent. Today, Incapsula is the Application Delivery platform of choice for tens of thousands of organisations, including some of the world's largest consumer electronics brands, online retailers, financial institutions and prominent SaaS companies.
Last year, to accommodate our growth, we grew our network capacity to over 600Gbps, expanding it by over 500 percent. We also introduced several major service upgrades, including Real Time view, new Cache controls, an integrated Two-Factor Authentication and a slew of other features.
This year we continue to expand our list of services, as well as our networking capabilities. In the first quarter of 2014 we already augmented Incapsula's security capabilities with our new custom rules engine. More recently, we broadened our offering with our Layer 7 Load Balancer – providing a first-of-its-kind high availability solution for our Enterprise clients.
Staying Ahead of DDoS Attacks
Our rapid network expansion is not only fueled by Incapsula's own growth but also by the growth of volumetric DDoS attacks. Since the beginning of 2013, we've witnessed an unprecedented increase in the number of large-scale DDoS threats to the point where one in every three attacks now reaches beyond 20Gbps and +100Gbps DDoS threats are no longer uncommon.
With several large-scale DDoS events occurring on a daily basis, and with more and more websites looking to Incapsula for protection, we knew it was time to invest; not just for the need of today, but also for the goals of tomorrow.
And so, as big as today's announcement is for us, it's still yet another piece of a much bigger picture, with the next big DDoS related update already around the corner.
Try Imperva for Free
Protect your business for 30 days on Imperva.
Start Now