Bad bots have long been a major illness plaguing the internet. As internet traffic reached new heights throughout the global pandemic, unfortunately so did bot traffic. In 2020, 40.8 percent of internet traffic wasn't human, and 25.6 percent originated from bad bots. What have these bad bots been doing throughout the year?
Scalpers changed their targets
Perpetrators of scalping, a phenomena that isn't unique to the cyber landscape, had to readjust to accommodate changes in their income sources. Once profitable concert and sporting events ticket-scalping activities disappeared virtually overnight, as governments worldwide imposed lockdowns that resulted in events being cancelled, postponed, or held with no audience. Instead, scalpers resolved to hoard essential commodities in the early days of the pandemic, taking advantage of the panic situation that led to a grocery hoarding frenzy, as well as the hoarding of masks and sanitizers.
In the second half of the year, with the launch of a new generation of gaming consoles, CPUs and GPUs, scalpers took the gaming hardware industry hostage using the infamous Grinchbots. In October of 2020, we saw a massive, 788 percent increase in bad bot traffic to retail websites, coinciding with the launch of the new hardware, as well as holiday shopping and Black Friday. Purchasing a new generation gaming console or GPU remains a troublesome feat to this day, as supplies are scarce, and Grinchbots are targeting any new batch that is offered by retailers.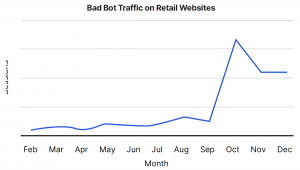 Bots are looking for vaccine appointments
Data from Imperva Research Labs reveals an increase of 372 percent in bad bot traffic to healthcare websites since September. Should bots that target vaccine appointments be a cause for concern? Originally conceived for a good cause, to help people find available vaccine appointments, can this tool be a catalyst for a resale market of vaccine appointments? If so, how much would such a malicious play be worth?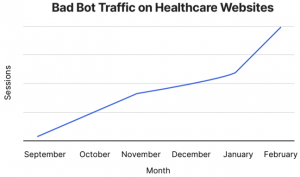 Did bad bots target the elections?
In last year's report, we discussed concerns over bad bots trying to interfere with voter registration accounts. Imperva Research Labs data shows bad bot traffic to government websites was consistently low from February to September, then these sites experienced a gigantic spike peaking in November. While their goals and exact targets remain unclear, one must question the timing of this bad bot traffic surge to those government websites.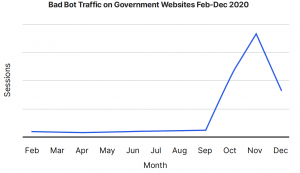 Account Takeover attacks are more prevalent than ever
Also known as Credential Stuffing and Credential Cracking brute force attacks, these are one of the most sinister automated threats infecting the internet today. Data from Imperva Research Labs reveals a third of all login attempts in recent months have been malicious. The use of bad bots to gain illegal access to user accounts provides hackers with access to sensitive personal and financial information. In addition, having illegal account access can lead to severe implications for organizations beyond brand damage, customer dissatisfaction and support costs. For example, taking over an IT service provider's employee accounts firm may lead to cascading attacks on customers, as seen in recent supply chain attacks.
The travel industry remains a favorite target of sophisticated bots
In a year when the industry has taken a major blow across all sectors, from airlines, to hotels and vacation rentals, it maintained its status as the priority target of sophisticated bad bots. A staggering 59.7 percent of bad bot traffic to travel websites was categorized as sophisticated bad bots. This can be explained by the complexity of the bot problem this industry faces.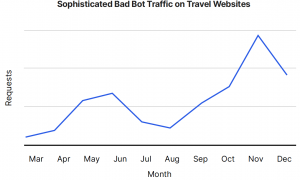 To learn much more, read the full report.
Try Imperva for Free
Protect your business for 30 days on Imperva.
Start Now