Imperva Professional Services
Maximize your return on investment and ensure your organization can meet your current and future security and compliance objectives
Expertise spanning the entire technology lifecycle
Imperva Professional Services is your partner throughout all phases of your technology lifecycle. Imperva consultants leverage their broad information security expertise and product knowledge to help your organization improve its security posture and meet regulatory requirements.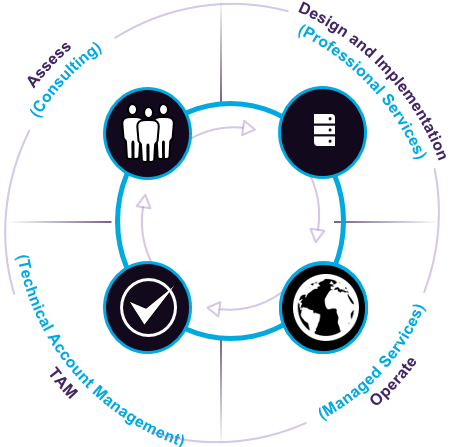 Leverage our in-depth expertise

Imperva consultants bring broad security knowledge, deep technical understanding of security technology, and hands on operational experience, to ensure any engagement can be practically adopted by our clients.

Help across the entire lifecycle

Imperva professional services can help you understand and document your security requirements, design and deploy the solution, and manage your ongoing operations, giving you the flexibility to focus on exactly what is important

Maximize time-to-value

Our security expertise and deployment best practices help ensure that projects are completed on-time, with maximum use of the security capabilities at hand

Documented knowledge transfer

The Imperva Professional Services methodology ensures that all operational processes are fully documented and transferred from our consultants to your team, so they can hit the ground running when an engagement ends.
Imperva Professional Services Offerings
Assessments

Don't know what you don't know? Imperva offers a broad range of assessments to help better understand, document, and communicate potential security risks or compliance gaps.

Design and Deploy

Need to roll out fast? Imperva professional services can help your team design the best architecture for your environment, and deploy and configure the appropriate products.

Ongoing Operations

Is your team stretched to the breaking point? Imperva can quickly validate your operational processes, or via Imperva managed services run the day-to-day operations of your Imperva deployment
Imperva Managed Services
Maximize your team's productivity by letting Imperva experts run your Imperva deployment's day-to-day operations
End-to-end management of your Imperva deployment
Full operationalization of your deployment

Imperva experts use their expertise and operational best practices to make sure you get the most out of your Imperva deployment on a day-in/day-out basis.

Service levels that meet your needs

Different service levels are available for each managed service offering, ensuring you get the responsiveness and reporting appropriate to your organization's needs.

Retain full visibility

Our managed services deliverables ensure your team retains full visibility into both the operational efficiency of your environment, and how your Imperva deployment improves your overall security posture.
Imperva managed services offerings
Imperva Incapsula managed services

Managed services for Incapsula included onboarding of up to 50 websites upon initial deployment, and ongoing management of the deployment

Imperva SecureSphere WAF managed services

Imperva SecureSphere Web Application Firewall managed services leverage our security and operational know how to provide policy configuration and tuning, ensure signatures and patches are appropriately updated, provide customized reporting, and to ensure your SecureSphere deployment is operationally sound.

Imperva SecureSphere DAM managed services

Imperva SecureSphere Database Activity Monitoring managed services provide ongoing assessments of your database environment, best practice configuration of monitoring policies, customized security and compliance reporting, and ensure that your SecureSphere deployment is operationally sound.