Protect government agency data from cyber attacks and insider threats
U.S. Government agencies are constantly targeted by cyberattacks from criminal organizations and nation-states. Attacks are more frequent, better targeted and – with more agencies online – more is at stake. The 2015 Office of Personnel Management breach -- the largest data breach in government history – is just one example.
The international consequences of U.S. Government data falling into the wrong hands cannot be overstated. Cyber security attacks are increasing with the number of reported incidents growing by 85% from 2014-2015, according to Verisign's DDoS Trends report.1 With attacks being launched every day, they are stopping government agencies from operating and shutting down online work.
The pressure on every agency is high: implement and update security measures and comply with increasing NIST regulations.
Imperva cyber security solutions help government agencies establish a repeatable data risk management process and provide a fast and cost effective route to overall security and regulatory compliance both in the cloud and on premises.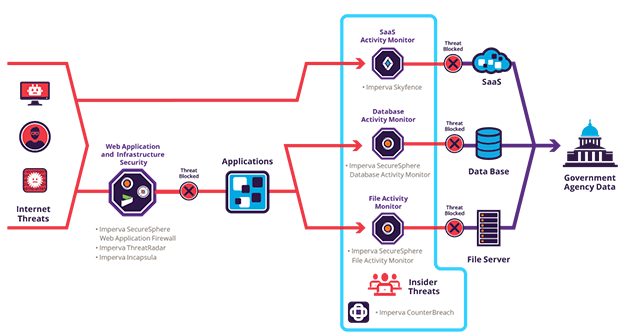 Key Initiatives and Solutions
1 Verisign Distributed Denial of Service Trends Report, Volume 2, Issue 4, 4th Quarter 2015.
https://www.verisign.com/assets/report-ddos-trends-Q42015.pdf
2 Whitehouse.gov, "Digital Government: Building a 21st Century Platform to better serve the American People."
https://www.whitehouse.gov/sites/default/files/omb/egov/digital-government.html
3 The Wall Street Journal, "Protecting Precious Data Paramount, Says Former CIA Chief." June 15, 2015.
http://blogs.wsj.com/cfo/2015/06/15/protecting-precious-paramount-says-former-cia-chief
4 2016 Verizon DBIR Report