Extending CounterBreach Intelligence to Cloud Apps
Imperva CounterBreach protects enterprise data from theft and loss due to compromised, malicious, and careless users.
The integration of Forcepoint CASB with CounterBreach extends an organization's anomaly and threat detection capabilities to cloud applications—enabling detailed information on inappropriate or abusive cloud data access activity within CounterBreach.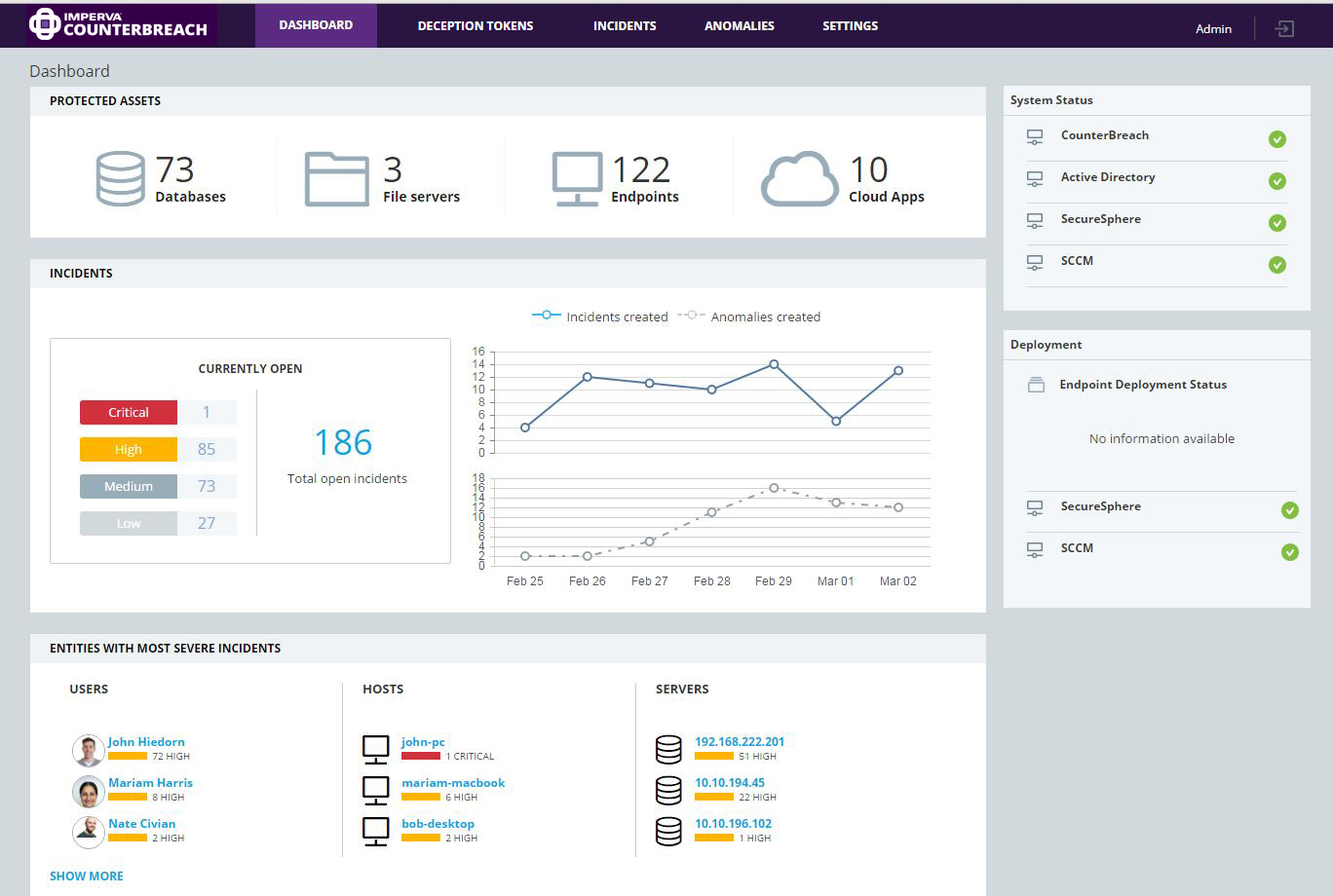 Forcepoint CASB feeds cloud app access information to Imperva CounterBreach.
Key Capabilities
View All Anomalies at a Glance

View data access incidents of varying severity.

Forcepoint CASB highlights specific anomalies that warrant remediation, including:

Anomalous account activity: User accesses non-typical application object using a non-typical endpoint from a non-typical location
Brute force attack: Too many unsuccessful logins within a short time period from a single IP address to a user account
Distributed brute force attack: Too many unsuccessful logins within a short time period from multiple IP addresses to a user account
Session hijacking: Identical web session cookies were simultaneously used by two or more endpoints
Suspicious data export size: Total volume of downloaded data within the configured timeframe exceeds the defined threshold

Accelerate Incident Response Time

See the details of specific incidents so you can choose the appropriate remediation measure.

Security teams can efficiently investigate high-risk cloud app access activity by filtering open incidents by date, severity, user, etc. Admins can then drill down into specific incidents to view information on:

Account details (User type, Account name, Geographic location)
User activity in question
Endpoint device details (OS, device type, hostname, IP)
Account name
Service details (Cloud app accessed, Service location)
Applicable Forcepoint CASB mitigation policy
Product Intro




Related Resources

CounterBreach Datasheet
Download Datasheet
Data: The Missing Piece for Detecting Insider Threats

Top 10 Indicators of Data Abuse
Download Playbook
How Insiders Put Enterprise Data at Risk

Read our blogs about Insider Threats
Learn More
Webinar: Protect Your Data from Insider Attacks
Learn More