Scale Your Imperva SecureSphere Deployment with Centralized Management and Monitoring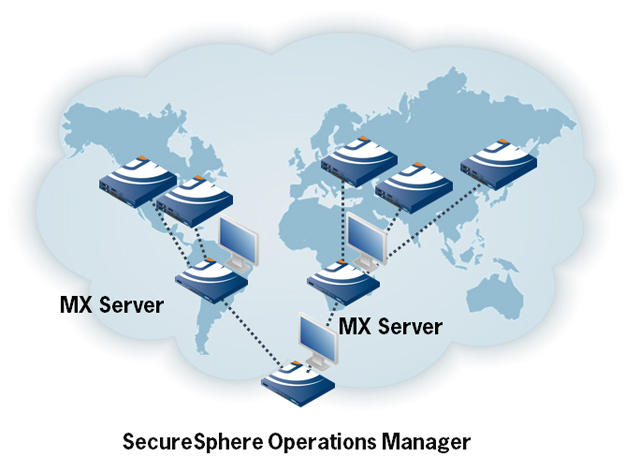 Whether you're running on-premises or in AWS, managing a small site or multiple globally-distributed data centers, and responsible for just your own infrastructure or tens of thousands of hosting customers, SecureSphere management solutions give you the visibility and control you need to protect your most important assets. Imperva SecureSphere MX Management Servers unify administration, logging, and reporting for multiple SecureSphere gateways. SecureSphere Operations Manager goes one step further, allowing you to centrally manage up to 50 MX Management Servers.
SecureSphere Management Solutions enable you to cost effectively scale your deployment to every corner of the globe, on-premises and in AWS.
Key Capabilities
Unify Web, Database, and File Cyber Security Management

Deploying multiple SecureSphere gateways doesn't require configuring each gateway separately. SecureSphere MX Management Servers consolidate administration, real-time alerting, auditing, and reporting of multiple gateways to a single, web-based console. SecureSphere MX Management not only lowers your operational costs, it also ensures that your audit policies, security policies and profiles are consistent across your entire deployment, an essential requirement for most governance and compliance policies.

Granularly Control User Access

You can ensure separation of duties and enable multi-tenant management with role-based access controls. Using these controls, you can create users and roles that define which policies, alerts, and reports administrators can view or edit. You can further segregate management responsibilities by limiting administrator access to specific web applications, sites, or database and file server groups.

Accelerate Compliance and Incident Response with Graphical Reports

Quickly assess your security status and streamline compliance with pre-defined and custom reports. Out-of-the-box reports for PCI, SOX, HIPAA and FISMA enable you to effortlessly demonstrate compliance with data protection and privacy mandates. Graphical reports can be created on-demand or scheduled for daily, weekly, or monthly distribution. MX Management Servers provide information-rich reports for instant visibility into security and compliance concerns.

Gain Unmatched Insight into Database and File Activity

By providing a consolidated view of audit data across multiple SecureSphere gateways, the MX Management Servers streamlines compliance and frees up IT resources and budget. The MX Management Servers provides sophisticated, interactive analytics, allowing you to drill down into the audit trail to understand what your database and file users are doing. With interactive audit analytics, you can view database and file activity from virtually any angle with just a few mouse clicks.

Easily Manage Large-scale Deployments with SecureSphere Operations Manager

SecureSphere Operations Manager (SOM) helps you improve efficiency, visibility, and control by centrally managing and monitoring multiple MX Management Servers. As a manager of managers, SOM also consolidates reporting and provides system-wide health metrics and statistics. With SOM, you can provision new applications and data stores quickly and cost-efficiently.

Centrally Distribute Policies to Dozens of MX Management Servers

With SecureSphere Operations Manager, you can configure and apply security and audit policies from one management console instead of logging into individual MX Management Servers. A common set of policies can be applied across multiple-domains, eliminating repetitive efforts, and ensuring security and auditing are consistent across the environment.
Case Study