Protect Your Critical Web Applications and Data
Microsoft Azure enables organizations to deploy mission-critical applications to the cloud that scale with your business, and avoid the time and expense of building an on-premise data center. Imperva delivers the industry leading SecureSphere security platform to protect your applications and data hosted in Microsoft Azure.
SecureSphere Web Application Firewall (WAF) for Microsoft Azure analyzes user access to all your critical web applications and protects your applications from cyber-attacks. It dynamically learns your applications' "normal" behavior and correlates this with Imperva ThreatRadar – a globally crowd-sourced threat intelligence service, to deliver superior protection for your web applications. A single SecureSphere Management Server can manage multiple virtual instances of SecureSphere WAF also hosted in Azure.
SecureSphere data audit and protection solutions monitor and protect your sensitive data in the Azure cloud with the same market-leading audit and security capabilities as the on-premise solution. The hybrid Azure cloud and on-premise deployment model ensure a comprehensive coverage and uniform policy enforcement across your evolving database, file and Big Data environment.
SecureSphere Web Application Firewall for Azure is available on Azure Marketplace for customers with a "bring your own licensing" (BYOL) model. In addition, the SecureSphere Deployment Kit is available for Azure Security Center, which enables customers to streamline provisioning of multiple SecureSphere WAFs, and ensure the overall security posture of applications in Azure.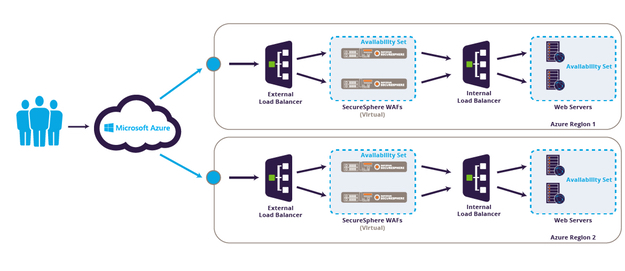 Key Capabilities
Protect Applications on Azure with Enterprise-Class Web Application Firewalls

As the market-leading web application firewall, more organizations rely on SecureSphere to protect their critical web applications than any other solution. SecureSphere for Azure is the only enterprise-class web application firewall that provides your business with a practical, highly secure solution to prevent web attacks without blocking your customers. SecureSphere incorporates patented technologies that boost web security accuracy and automate management.

Streamlines Web Application Security with Your Applications on Azure

Extend the scalability benefits of Azure to your Web Application Firewall with SecureSphere. SecureSphere for Azure customers can take advantage of significant Azure features like Azure Resource Manager, Load Balancing, and Azure Application Insights.

Azure Resource Manager: streamlines SecureSphere WAF deployment, scaling, and elasticity.
Load Balancing: balances traffic load, detects unavailable instances, and routes around them.
Azure Application Insights: identifies critical issues like high CPU or bandwidth utilization, and automatically spawns new web application firewall instances on Azure.
Azure Security Center: SecureSphere Deployment Kit is available for Azure Security Center, to streamline provisioning of multiple SecureSphere WAFs.

Eliminate Downtime with Automatic Load Balancing and HA

SecureSphere Web Application Firewall integrates with Azure Load Balancing to handle large traffic loads and boost uptime. Azure Load Balancing offers fault tolerance by detecting when instances are down, automatically rerouting traffic to available instances in one Availability Set or across multiple Availability Sets. SecureSphere MX Management Servers can also be deployed in high availability pairs, both within a single availability set or across availability sets, within a single Azure region.

Streamline Deployment with Azure Resource Manager

With Azure Resource Manager (ARM), you can provision SecureSphere for Azure in minutes by using simple templates to define network configuration, Azure Application Insights monitoring and more. SecureSphere Web Application Firewall ARM templates can be further extended to configure Azure Load Balancing and auto-scaling to dynamically add and remove SecureSphere Web Application Firewall gateways as application traffic changes. SecureSphere for WAF can also be deployed using Azure Classic Mode.

Monitor SecureSphere Gateway Health

With Azure Application Insights, you can track the status of SecureSphere gateway instances and view resource utilization and performance metrics. Azure Application Insights also detects problems like high CPU use and can launch new SecureSphere Web Application Firewall instances as needed. By supporting Azure Application Insights, SecureSphere for Azure helps deliver a single point of visibility for security, health and performance of your SecureSphere gateways in Azure.

Azure Security Center Integration

The SecureSphere Deployment Kit for Azure Security Center is available to streamline provisioning and monitoring of multiple WAFs to secure a large application environment hosted on Azure. It makes it easy to deploy enterprise-grade SecureSphere solutions from Imperva to rapidly monitor and secure applications on Azure. The SecureSphere Deployment Kit:

Automates deployment of Imperva security solution on Azure
Provides centralized visibility into security alerts and makes it easy to respond to incidents
Monitors the health of Imperva security components along with the application elements on Azure